Healthy Breakfast Recipes - The Best Start to the Day

Are you looking for healthy breakfast recipes and ideas?   It doesn't matter whether

We've been told that breakfast is the most important meal of the day. Why?

It recharges the body after the fast of the previous night and sets you up for the day. This is literally where the word originated. Breaking of the fast.

Quick and Easy Breakfast Ideas

Fruit

Cereal

Bread

Eggs

Yogurt

Fruit Juices
Not everybody has time for a large sit-down breakfast. Often it's a quick bite grabbed on the run. But there are healthy options if you are time-poor in the mornings.

Fruit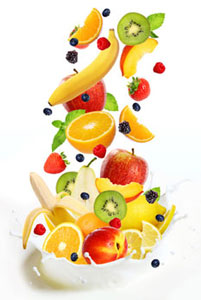 Fruit is a great stand-by. Chop up some fresh fruit for a fresh fruit salad. Use it to top off a bowl of cereal. If fresh fruit is unavailable, dried fruits or canned are easy alternatives. If using canned, choose one low in sugar. A great way to incorporate more fibre into your diet is to leave the skin on fresh fruit.

Cereal
You can easily make your own cereals or muesli. But if buying packaged cereal DO read the labels. Many modern cereals are high in salt and sugar. Look for cereals containing wholegrains, rolled oats, wheat germ, bran flakes or natural muesli. To make cereal more interesting top with yogurt or milk, or why not try flavored low-fat drinking yogurt. The fruit is a natural sweetener and the yogurt adds flavor.
Bread
Bread can be toasted and topped with low-fat cream cheese, baked beans, mushrooms, eggs, tomato or honey. Again choose the wholegrain variety.

Smoothies

Smoothies are the quickest and easiest of all. Perfect for those who don't have time for a sit down breakfast. In fact I find smoothies ideal for any time of the day when I need a quick pick-me-up. You can throw almost anything into them, from fruit, vegetables, frozen or natural yogurt, wheat germ, honey and fruit juice.
---

Breakfast/Brunch Ideas

Of course weekends are the time for indulging yourself with a more leisurely breakfast. Breakfast turns into brunch - a chance to sit and relax and enjoy good food. And healthy eating doesn't mean you have to deprive yourself. You can still enjoy treats such as cinnamon toast, banana bread, pancakes or bagels. Our healthy breakfast recipes will show you how.

Muffins
Muffins can be eaten any time of the day, but make an excellent starter to the day.

More Muffin Recipes

---
Loaves/Bread
Quick breads are one of the easiest foods to make.  Unlike yeast breads they use baking powder or baking soda as the raising agent and so can go into the oven immediately.

---
Pancakes
Pancakes turn breakfast into a special event.

---
What are the benefits of healthy breakfast choices?
    Improves short term memory
    Makes us more alert
    Reduces feelings of stress

Yet so many people skip this important meal for various reasons. They are dieting, they are too busy or they don't consider it important.

But did you know that skipping breakfast is detrimental to your health?

People who don't eat breakfast tend to overeat later in the day when hunger pangs get the better of them and they will often grab something high in fat or sugar.

But breakfast needn't be a complicated affair and it can be tasty while being nutritious. It's a simple matter to whip up a quick, healthy meal.

Our healthy breakfast recipes will give you loads of options, whether you want something quick and light or more substantial.


Home » Healthy Breakfast Recipes