Healthy Recipes for Quick Breads, Tea Breads & Muffins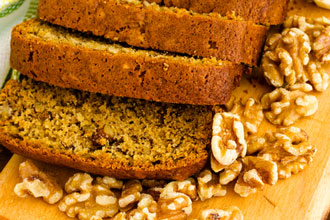 Quick bread recipes, like muffins, are amongst the easiest of all bakes.  Whether you're making tea breads or muffins, they all follow the same easy process.    The only difference really is the shape of the pan.

But what I like most about them is their versatility.  There are endless combinations of flavors and varieties.  Spice them up with cinnamon, nutmeg or mixed spices, sweeten them with dried or fresh fruit, add texture with nuts.  Find interesting new tastes and textures using oatmeal, whole wheat flour, different sugars and adding plain or flavored yogurt.

Sometimes called tea breads, they can be served almost anytime, anywhere.  They are great packed into lunch boxes,  taken on picnics, shared with friends over a cuppa for afternoon tea, enjoyed with a leisurely breakfast or simply because you want a snack. 
What are quick or tea breads?  
Tea breads are quick loaves made with baking powder and baking soda as the raising agent rather than yeast.  They are I think the easiest of all, even easier than muffins.   Just spoon the batter into the pan and pop into the oven.

Muffins
Muffins follow the same quick mix procedure.   But because the batter is divided into smaller quantities, they take less time to cook.
---

Banana Bread Recipes
Other Quick Breads
---

Muffin Recipes
More Muffin Recipes

---

Rules for making tea breads
Weigh or measure your dry ingredients – accuracy is important.

Measure out wet and dry ingredients separately.

Pour the wet ingredients into the dry then stir only until they are combined. Over mixing causes the gluten in the flour to react and results in a tough batter.

Mix the ingredients together when ready to bake. Don't leave the batter sitting for any length of time otherwise the bread won't rise.

When mixing your batter, it's okay to have a few lumps. Unlike cake batter, it doesn't have to be perfectly smooth.

The loaves are done when a wooden skewer inserted in the center comes out clean.
---

Freezing
Both quick breads and muffins are very easy to freeze.    So that you have extra for freezing, next time whip up a double batch.

The loaves can be wrapped in heavy foil and will freeze for up to a month.

Wrap muffins in foil, or place in zip-loc plastic bags, squeezing out the air to make them air tight.   As with loaves they will freeze for up to a month.

If you are making muffins for school lunch boxes, wrap each one individually, then simply remove one from the freezer each day as required.

Home » Quick Bread Recipes