Citrus Muffins made with fresh Oranges and Lemons

These citrus muffins are bursting with flavor.   Orange and lemon is always a great combination – the zestiness always seems to bring the sunshine.   

A great trick for imparting more flavour is to rub the lemon and orange rind with the sugar.   This releases all those wonderful aromas and boosts the flavor.

To finish, we than drizzle a sweet lemony syrup over the hot muffins.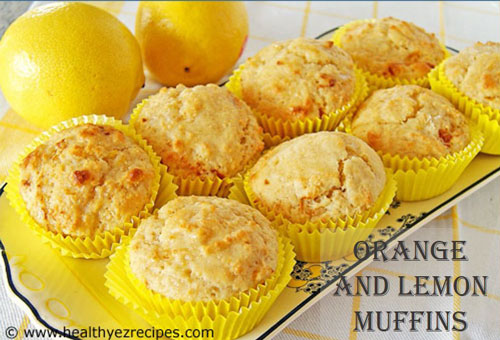 Orange and Lemon Muffins
Ingredients
   1 cup all-purpose / plain flour
   ½ cup sugar
   1 teaspoon baking powder
   ½ teaspoon baking soda
   ½ teaspoon salt
   ¼ cup sunflower oil
   1 cup buttermilk
   Zest and juice of 1 orange
   Zest and juice of 1 lemon
   1 large egg, lightly beaten

Topping if desired

   Extra orange and lemon juice
   1 tablespoon sugar
How to Make

Preheat oven to 200°C / 400°F. Line a 12-hole muffin tray with muffin liners. Grease the liners with non-stick cooking spray. Sometimes muffins can stick to the lines and this makes for easy removal later.

Combine the sugar and lemon and orange zest in a bowl. Using your fingers, rub the zest into the sugar until the sugar is pale yellow.

To measure flour, lightly spoon into measuring cups and level with a knife. Add the flour to a large mixing bowl and combine with the sugar mixture, baking powder, baking soda and salt. Whisk lightly to combine all the ingredients.

In a mixing jug, combine sunflower oil, buttermilk, orange and lemon juice, and a lightly beaten egg. Stir well with a whisk.

Make a well in the center of the flour mixture and pour in the egg mixture. Gently stir the mixture until the dry ingredients are moistened. Remember, over-mixing will make your muffins tough. You shouldn't need to stir more than about 25 times. Your mixture will still be lumpy but that's okay.

Spoon the batter evenly into the muffin cases only filling them about three quarters full.

Place on the middle shelf of the oven and bake for 20 minutes or until the muffins spring back when lightly touched. Remove from oven.

Mix together 1 tablespoon of extra sugar and several tablespoons of lemon and orange juice. Drizzle the syrup over the top of the still hot muffins.

Remove the muffins from the pan once they have cooled slightly, about 5 minutes. Place on a wire rack and leave to cool completely. If the muffin cases are sticky, place inside a second muffin case.
Tips

Rubbing the zest into the sugar rather than adding it to the mixture later is a great way to boost the flavor.

Using whole wheat pastry flour lightens these muffins and maintains the wonderful citrus flavor, while still keeping them healthy.