Healthy Cookie Recipes -
Skinny Makeovers on your Favorite Cookies, Bars, Brownies and Squares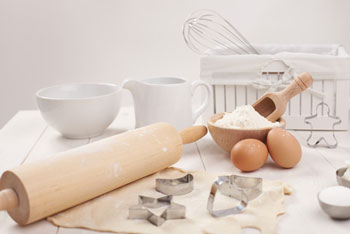 There's nothing quite so enjoyable as a freshly baked cookie, and there's no reason why you should deny yourself.  It IS possible to eat healthily and still enjoy the odd bakery treat.  
 
However, of all the baked goods, cookies are the hardest to lighten.   This is because cookies are traditionally made with butter.  It is the butter which makes them spread, creating thin, crisp cookies.  Cutting down the fat limits the spread making them softer and chewier.

For this reason it is not possible to eliminate the fat completely.  The most successful recipes still have some fat, but in reduced quantities.
---

How to Make your Cookies Healthy
Don't replace the butter with diet margarine, whipped butter or tub-style spread.  They contain too much water and too little fat which will affect the texture of the cookies.  Instead reduce the amount of butter.
Butter is what makes cookies, well cookies.  Rather than eliminate it completely, try replacing up to half the amount specified in the recipe, with equal parts of applesauce, pureed fruit or yogurt.

The healthy meter can be ramped up even further by adding ingredients such as dried fruit, nuts, seeds, rolled oats and cereals.





---
Healthy Cookie Recipes

Bars, Slices, Brownies

---

Cookie Baking Tips
Bake on the middle shelf of your oven.

Always measure your ingredients.

Remove butter from fridge 30 minutes before to allow it to soften. Or you could try microwaving it first. Microwave on high for 10 seconds to soften it, but try to avoid melting it.

Cookie dough usually benefits from being chilled for about 30 minutes before baking.

Always place your dough on cold trays. Cookies placed on hot trays will spread too much and brown around the edges. Use two or more trays, alternating between batches.

Do not grease the trays. This also causes them to spread and brown on the bottom. Use non-stick trays or line your trays with baking paper or a baking mat.

Place the dough about 2 inches apart on the trays to allow sufficient room for spreading during baking.

Remove from the oven and leave to cool on the trays for a few minutes. If you leave the cookies on the trays too long they will become stuck to the bottom, making them too hard to remove.
It doesn't matter what type of cookie you are baking, whether healthy or not, success depends on using the best ingredients, the right equipment and mastering the basic skills for each type of cookie.
---

Discover the Secrets to Low Fat Baking!

Learn the Secrets - Discover the Art of Low Fat Baking with our easy 10 steps
Home » Healthy Cookie Recipes