Healthy Oatmeal Chocolate Chip Cookies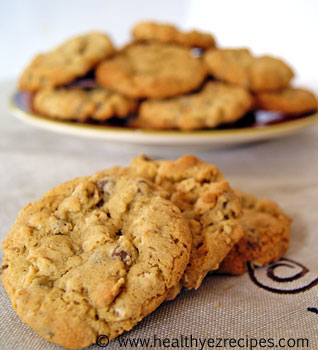 These oatmeal chocolate chip cookies are definitely addictive.   Once you start eating them you won't be able to stop.

Not only are they healthy with the addition of the oatmeal, but this recipe ramps it up a notch by reducing the amount of butter used.

But even though they are low in fat, they look and taste just like a choc chip cookie should.  

Crispy on the outside, slightly chewy on the inside, they have that traditional caramel flavor from the brown sugar, texture from the rolled oats interspersed with morsels of chocolate.
Preparation time:  20 minutes
Cooking time:  12 minutes
Makes:  24
How to Make

   1 ¼ cups all purpose flour
   1 cup rolled oats
   ¾ teaspoon baking powder
   ½ teaspoon baking soda
   ½ teaspoon salt
   ½ cup granulated sugar
   ½ cup packed brown sugar
   75 g / 2 2/3 oz / 1/3 cup butter, softened
   1 ½ teaspoons vanilla extract
   1 large egg
   1 cup chocolate minichips


How to Make

Step 1

Preheat oven to 180ºC / 350°F.   Line two cookie sheets with parchment paper.

Measure out the flour by spooning it into measuring cups then level off with a knife.    Combine the flour with the rolled oats, baking powder, baking soda and salt in a large mixing bowl and stir with a whisk.

Step 2

Place the brown and white sugar and butter in a large bowl and beat with an electric mixer at medium speed until well blended.   The mixture won't become creamy and fluffy because of the low butter content, but it should be soft.

Add vanilla and egg and continue beating until the egg has been incorporated with the mixture. 


Step 3

Reduce the mixer speed to low and gradually add the flour mixture in several batches.  Beat until the flour is almost incorporated but not quite.   Stir in the chocolate minichips only until they are evenly mixed through the batter.   Over-mixing your dough will result in tough cookies.   When you reduce the fat content technique becomes even more important.

Step 4

Using a tablespoon or a cookie scoop, drop the dough onto the prepared baking sheets leaving about 2 inches of space between each one.  There's no need to flatten the cookies first, as they'll spread during baking.   

Bake for 10 – 12 minutes or until the edges of the cookies are lightly browned then take out of the oven.    It is very easy to overbake these cookies.

Leave to cool on the pans for 2 minutes.  Then, using a spatula transfer to wire racks to cool completely.

Good to Know

We've used minichips for this recipe to reduce the amount of chocolate, but regular chips work as well.