Pumpkin Mousse -
Your Favorite Dessert without the Calories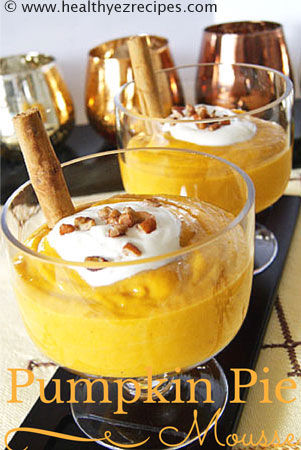 If you love pumpkin desserts but don't want the calories of a pumpkin pie, this pumpkin mousse may be just the solution.
   
Rather than the usual cream this mousse is made with silken tofu (and pumpkin of course).   Maple syrup adds the required sweetness, while cinnamon, nutmeg, ginger and cloves provide the spice.
It produces a creamy, pudding-like mousse that is super tasty.   You can serve this to your family and they will never guess it's made from tofu.
What is silken tofu?
Tofu is made when dried soybeans are ground with water and turned into milk.   The hot milk is curdled and a coagulant added.  The curds are then pressed into blocks and the liquid whey drained off.
 
High in protein and calcium, but low in saturated fat and calories, it can be substituted for meat and other protein foods.
Silken tofu has a soft, silky texture, unlike the regular variety, which is firm and can be sliced.    It is fabulous in smoothies, sauces and desserts because it whips up so soft and creamy.   smoothies, sauces and desserts because it whips up so soft and creamy.  
 
  

Preparation time:  10 minutes (plus setting time)
Serves:  5
Ingredients
15 ounce can pumpkin puree
10 ½ ounce package silken tofu, well drained
1/3 cup pure maple syrup
1 teaspoon ground cinnamon
¼ teaspoon ground nutmeg
¼ teaspoon ground ginger
¼ teaspoon ground cloves
¼ cup Greek yogurt
¼ cup chopped pecans

How to Make

Place the pumpkin and tofu into a food processor and pulse for about 30 seconds, or until smooth and creamy.

Add the maple syrup, cinnamon, nutmeg, ginger and ground cloves and continue to pulse for a further 30 seconds until all the ingredients are well mixed and your mousse is silky smooth.

Place the mousse into a container, cover with a lid and chill in the refrigerator for at least four hours. Drain off any excess liquid that has collected on the top.

Spoon the mousse into individual serving dishes, top with a dollop of Greek yogurt and sprinkle over some chopped pecans.

Great Tip

I've topped the mousse with pecans, because I think they go beautifully with pumpkin, but you could try grated chocolate or even granola.