Pumpkin Pound Cake with Maple Syrup Glaze
The trick to healthy baking is to find ways of cutting back on the fat and sugar content.  Of course this is sometimes easier said than done, particularly with a cake such as pound cake. 
I love pound cakes.  They are a rich, dense cake, with a beautifully moist texture and a golden crust. But because of the way they are made, i.e by creaming butter and sugar, they can be high in sugar.  This particular pumpkin pound cake recipe uses less butter and sugar than other recipes, and also uses buttermilk.  
But hey, anything with pumpkin in it can't be all bad.  Pumpkin is such a wonderful source of beta-carotene, vitamins B, C D and E that it has to add some nutritional value, not to mention moistness and flavour.
I also decided to drizzle a maple syrup glaze over the cake.   Maple syrup just goes beautifully with pumpkin, it really adds to the flavour.  I then topped the whole thing off with chopped pecans.  The result was absolutely delicious.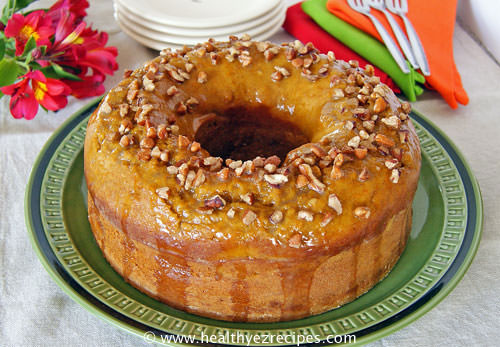 Preparation time:  20 minutes
Cooking time:  55 minutes
Yield:  16 servings
Ingredients
¾ cup granulated sugar
¾ cup packed dark brown sugar
½ cup / 4 oz / 115 g butter
4 eggs
1 x 15 ounce can pumpkin
1 teaspoon vanilla extract
3 cups cake flour
1 ½ teaspoons pumpkin pie spice
1 teaspoon baking powder
½ teaspoon baking soda
½ teaspoon salt
¾ cup buttermilk
Maple Glaze
¼ cup Maple Syrup
¼ cup unsalted butter
½ cup buttermilk, room temperature
¼ cup chopped pecans
How to Make

Step 1
Preheat oven to 180°C / 350°F.  Spray a 10 inch tube pan with cooking spray then dust with a little flour.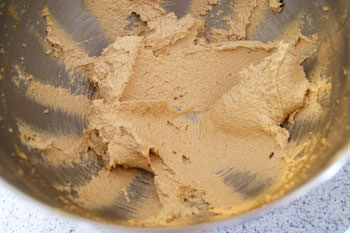 Place granulated sugar, brown sugar and butter into the bowl of an electric mixer and beat at medium speed for 3 – 5 minutes.   Interrupt the mixer occasionally to scrape down the bowl.  The mixture will lighten in color and become soft and fluffy.


Step 2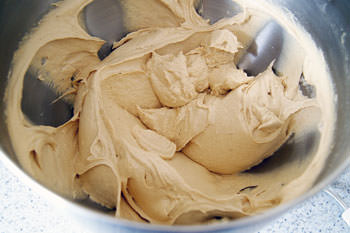 Add eggs, one at a time and beat well after each addition.   The mixture should be smooth and creamy.

Step 3
Add the pumpkin and vanilla to the bowl and beat until just combined.     Once you add the pumpkin the mixture will look like it has curdled but this is normal and nothing to be alarmed about.

Step 4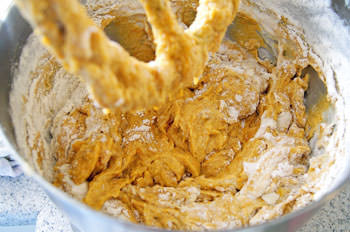 In a separate bowl, sift together the flour, spice, baking powder and baking soda.   Turn the mixer speed down to low and add the flour mixture to the egg mixture alternately with the buttermilk.  Once all the ingredients have been added continue beating only until all the ingredients have been incorporated and there are no streaks of flour.  

Step 5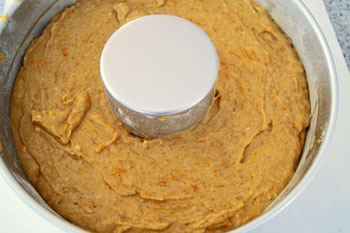 Spoon batter into prepared pan and smooth over the top. 
Bake in the oven for 55 minutes or until cooked.  To test insert a skewer into the cake and it should come out clean. 
Remove from the oven and leave to cool in the pan for 10 minutes, then turn out onto a wire rack and leave to cook completely.
---
How to Make the Glaze

Place the butter and maple syrup in a small saucepan over a low heat.  Cook until the butter has melted and the maple syrup starts to boil.
Remove from the heat and leave to cool for several minutes, then whisk in the buttermilk.
Place the cake on a wire rack with a tray positioned underneath to catch the drips.  Drizzle the glaze over the cake then top with the chopped pecans.
Allow the glaze to set before cutting and serving the cake.

Use real maple syrup for this, not maple flavored syrup which is really just maple flavored corn syrup.