Healthy Pumpkin Pie Recipe -
An Easy, Enjoyable Holiday Favorite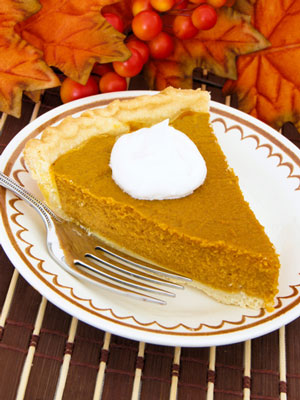 If you enjoy your pumpkin pie but don't want the calories, then this healthy pumpkin pie recipe may be for you.
This Thanksgiving classic has been given a healthy makeover by using whole-wheat flour and replacing sweetened condensed milk with evaporated milk.   It still has the same delicious taste of its full-fat counterpart, but without the waist-expanding calories.
To save time, the pastry can be made several days in advance and kept refrigerated.  When ready to bake, remove the pastry, bring to room temperature and roll.    The filling is easily put together, all you need is a bowl and a whisk.
Preparation time:  30 minutes
Cooking time:  1 hour 10 minutes
Serves:  8
Ingredients
Pastry
¾ cup whole-wheat pastry flour
¾ cup all-purpose flour
2 tablespoons sugar
¼ teaspoon salt
4 tablespoons / ½ stick cold butter
1 tablespoon canola oil
¼ cup ice water
1 large egg yolk
1 teaspoon lemon juice or white vinegar

Filling
¼ cup sugar
½ cup brown sugar
1 ½ teaspoons ground cinnamon
¾ teaspoon ground nutmeg
¼ teaspoon ground cloves
¼ teaspoon salt
2 large eggs
4 large egg whites
1 x 15 ounce can pumpkin puree
1 cup evaporated skim milk
1 teaspoon vanilla extract

How to Make the Pastry
Place whole-wheat flour, all-purpose flour, sugar and salt in a medium bowl and whisk together to combine.

Cut in butter with a pastry blender or your fingertips until the mixture resembles coarse crumbs. Don't worry if there are a few larger pieces.

Add oil and stir with a fork to blend. Put the water, egg yolk and lemon juice in a jug and mix well until combined.

Make a well in the center of the flour mixture and add the egg yolk mixture and mix with a fork until the dough clumps together. If the mixture appears too dry add a little more iced water.

Turn the dough out onto a lightly floured board and knead lightly. Form the dough into a ball, then flatten it out into a round disk. Wrap in plastic wrap and refrigerate for at least an hour or until ready to use.
Note: This recipe makes enough dough for a 9 to 11 inch pie or tart.

Preheat the oven to 220°C / 425°F and position rack in lower third of oven.

Grease or coat a 9 inch / 23 cm pie pan with cooking spray.

Roll out the dough on a lightly floured surface into an 11 inch / 28 cm circle. Drape the pastry over the rolling pin and gently lift it into the pie tin. Remove the rolling pin and gently ease the dough over the base and sides, making sure to push it into the edges. Trim the pastry.
 How to Make the Filling

Combine sugar, cinnamon, nutmeg and salt in a large bowl and whisk until the sugar is combined with the spices.

Add eggs and egg whites and whisk until blended. Add pumpkin and continue whisking until smooth. Whisk in milk and vanilla.

Pour the filling into the pie crust and cover the edges with strips of foil to prevent burning. Place the pie onto a baking sheet and bake in the oven for 10 minutes

Reduce oven temperature to 160°C / 325°F and continue baking for a further 55 – 60 minutes. Cook until the center still jiggles when the pan is tapped.

Remove from the oven, transfer to a wire rack and leave to cool.

Cook's Tip:  This pumpkin pie will keep in the refrigerator for up to a day.
Home » Healthy Pumpkin Pie Recipe