Watermelon Fruit Salad - A Summer Layer Cake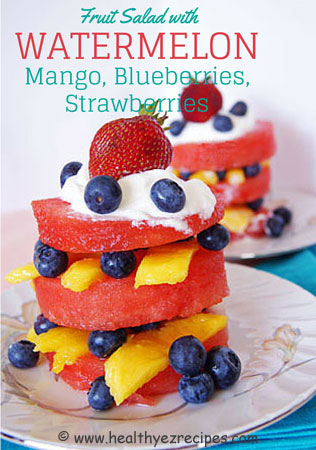 This watermelon fruit salad is a terrific way to dress up fruit salad.  While there's nothing wrong with simply chopping up your fruit and tossing it into a bowl, there are several elegant ways to present fruit salad.  One is to use a melon baller to make dainty little spheres, the other is to stack it up in layers and make it look like a layer cake. 
The layers in this instance are made out of watermelon, cut out into large rounds.   The filling comprises more fruit.  I've used thinly sliced mango for a tropical look and feel, as well as blueberries for color and taste.  
The icing on the cake, so to speak, is a dollop of yogurt, which is then decorated with more berries, such as strawberries, raspberries or blueberries.
The result is an absolutely fabulous looking dessert made entirely out of fruit and yogurt, that needs no dressing and no other adornment.  
This is a light summery dessert that is as elegant as it is simple.
Preparation time:  10 minutes
Serves 4
Ingredients
½ seedless watermelon
1 medium mango, flesh sliced thinly
1 punnet blueberries
1 tub of Greek-style yogurt
4 Strawberries for decoration
How to Make

Cut the watermelon into 2 cm / ¾ inch thick slices. Remove any pips or seeds. Using a 9 cm / 3 ½ inch cutter cut out 12 rounds of watermelon. (Don't throw out any left over watermelon, reserve these pieces for a future fruit salad.)

Peel and cut the mango into thin slices.

Place a slice of watermelon on four serving plates. Arrange slices of mango over the top, then scatter over a few blueberries. Top with another slice of watermelon, mango slices and blueberries, then finish off with a final slice of watermelon.

Dollop over a spoonful of yogurt then top with a strawberry and more blueberries. Repeat procedure with remaining watermelon and fruit. If you wish, drizzle over a little honey (this is purely optional).

Good to Know

Once made serve immediately.

Variation
While you really need to use watermelon as the base for the layers, try using other fruits as fillers.
Fruits that would go well are sliced peaches, nectarines, papaya, raspberries, grapes and kiwi fruit.