Christmas Sugar Cookies that are Low in Fat but High in Taste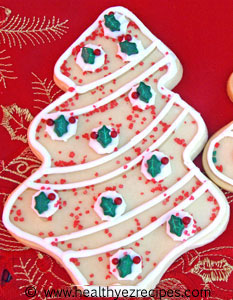 Christmas is that time of year when many of us dust off the baking pans and cookie sheets.

Baking is one of the great traditions of Christmas, but it can play havoc with our resolve to eat healthily.

I see no reason to deny ourselves completely, so what to do?  

Our low fat Christmas sugar cookies are the answer.

With reduced amounts of fat and sugar, these cookies can be enjoyed guilt free.   Plus they are so good, I guarantee you won't be able to tell the difference.


The secret is the dark brown sugar.  The extra molasses gives these cookies just enough moisture to prevent any dryness.   This dough is simply a joy to work with.  It is soft and pliable and the cut out cookies hold their shape beautifully.

The hardest part will be deciding how to decorate them.  Try using one of our low fat frosting recipes.
---
Preparation time:  35 minutes  (doesn't include chilling time)
Cooking time:  6 minutes per batch

Ingredients

   6 tablespoons superfine / caster sugar
   ¼ cup butter
   2 tablespoons dark brown sugar
   1 ½ teaspoons vanilla extract
   2 large egg whites
   1 ½ cups all-purpose / plain flour
   3 tablespoons cornstarch /cornflour
   ½ teaspoon baking powder
   ¼ teaspoon baking soda
   ¼ teaspoon salt


Making

the

Dough
Place the sugar, butter and brown sugar in a large mixer bowl and beat at medium speed with an electric mixer until creamy and lighter in color. This will take about 5 minutes. I use superfine sugar as it creams faster than granulated sugar.

Beat in 1 ½ teaspoons vanilla. Separate the eggs, reserving the yolks for another recipe. Add the whites, one at a time, beating well after each addition.

Measure the flour by spooning it into measuring cups, then level with a knife. Accurate measuring is always important in baking, but becomes more so when you reduce the fats.

Sift together the flour, cornstarch, baking powder and baking soda. Add to the butter mixture. Reduce the speed on the mixer to low and beat until the ingredients come together into a soft dough.

At this stage the dough will be very soft so it needs to be refrigerated. Wrap in plastic wrap and chill in the fridge for at least 30 minutes, or until the mixture becomes firm enough to handle.
Cutting out the Dough
Meanwhile, preheat the oven to 190°C / 375°F. Line two baking trays with parchment paper.

Divide the dough in half. While working with one half, keep the other refrigerated.

Rather than add more flour to the mixture I prefer to roll my dough out between two sheets of parchment paper. This works very well to prevent the dough sticking. Roll the dough to about 1/8 inch thickness.

Cut out shapes using your holiday cookie cutters. To get the maximum number of cookies from the first roll, place the cookie cutters as close to each other as possible.

Reserve the scraps and repeat the process with the second half of dough. Then gather all remaining scraps and re-roll. Avoid re-rolling more than twice or your cookies will be tough.
Baking the Cookies
Place the cookies on the prepared baking sheets, allowing about 1 inch between each cookie to leave them room to spread.

Place the tray on the center rack in the oven and bake for 6 minutes or until the edges are just starting to brown.

Remove from the oven and leave the cookies on the trays for about 5 minutes, then using a spatula transfer them to wire racks to cool.
Tips
Keep the cookies an even thickness to ensure even cooking.

Cookie dough can be stored in the fridge for up to a week. When ready to use, remove from the fridge and leave for about 10 – 15 minutes or until soft enough to roll out.


Decorating your Cookies
Your Christmas sugar cookies can be decorated any number of different ways:

Make a quantity of green icing and cover your cookies. Allow the icing to dry, then using some royal icing pipe diagonal lines across the cookies, adding some dragees or cachous as decoration.






---


How to Make Royal Icing
If you intend decorating your Christmas sugar cookies with piping, it is recommended you use royal icing.  It sets hard so your beautiful handiwork won't be smudged or destroyed.
Ingredients

   3 tablespoons meringue powder
   4 cups powdered (icing) sugar
   ¼ to ½ cup warm water


In a medium bowl stir together the powdered sugar and meringue powder.   Add about ¼ cup of the water and beat with an electric mixer on low speed until combined.   
Turn the mixer up to high then beat for about 7 – 10 minutes or until the icing is very stiff.    Keep adding water, a teaspoon at a time, until the icing is the correct consistency for piping.   It should be the consistency of thick cream.

If the icing is too thin add more confectioners sugar, if too thick add more water. The icing is the right consistency for piping if peaks form when the beaters are lifted out.