Low Fat Frosting Recipes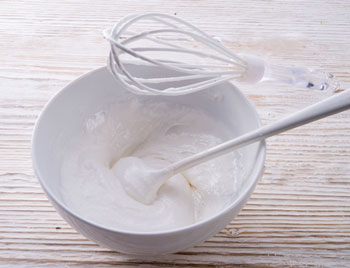 Many cakes benefit from being frosted or iced.  In fact some are just not the same without it.  Can you imagine eating a chocolate cake without any frosting?    It just wouldn't taste the same would it?

But if you are watching your weight, that can present a small problem.  So what do you do about it?  Well, you could try eating your cake dry, (not very nice) or you could try one of these low fat frosting recipes.

We have tried to reduce the fat and sugar content in these recipes.  Bear in mind, it's simply not possible to make frostings without using some powdered sugar, but where possible we have reduced the amount used.
Light Cream Cheese Frosting
8 oz / 250 g tub light cream cheese, softened 8 oz / 250 g fat-free cream cheese, softened 3 tablespoons light butter, softened 1 ½ cups confectioners / icing sugar, sifted 1 ½ teaspoons vanilla extract

Put the cream cheese and butter into a medium-sized bowl and beat on medium speed with an electric mixer until smooth and fluffy.

Gradually beat in the confectioners sugar. Stir in the vanilla extract.

If you don't intend to use it immediately, cover and refrigerate until ready to use. Then remove from the fridge, allow to come to room temperature and whisk until light and fluffy.

Makes about 3 ½ cups


Lemon Cream Cheese Frosting
¼ cup low fat cream cheese, softened
2 tablespoons butter, softened
1 teaspoon grated lemon rind
1 teaspoon vanilla extract
1/8 teaspoon salt
1 ½ cups confectioners / icing sugar, sifted
2 teaspoons fresh lemon juice

Place the cream cheese, butter, lemon rind, vanilla and salt into a mixing bowl. Beat with an electric mixer at medium speed until the ingredients are just blended. With the beaters still going, gradually add the confectioners sugar to the bowl and beat until smooth (without overbeating).

Store in the refrigerator until ready to use.
Low Fat Chocolate Frosting
8 oz / 225 g low-fat cream cheese, softened
1 cup powdered / icing sugar
½ cup unsweetened cocoa powder
3 teaspoons vanilla extract
3 tablespoons skim milk

Place the cream cheese, sifted icing sugar, cocoa and vanilla in a mixing bowl and beat with an electric mixer until smooth. Slowly add the milk while continuing to beat until it reaches the desired consistency. It should be smooth, creamy and easily spreadable.
About Buttercreams
Buttercreams are traditionally made with lots of butter, but the high fat content makes them rather unhealthy.   If you are going to the trouble of making low fat baked goods, then smothering them with a rich buttercream rather defeats the purpose.

So we need to find a good alternative.   Margarine can easily be substituted for butter in frostings, but be aware the taste will be slightly different. 
 
If you are going to use margarine in your low fat frostings, combine it with some milk.

Low Fat Buttercream
4 tablespoons margarine
2 – 4 tablespoons milk
1 teaspoon vanilla extract
2 cups icing / confectioners sugar

Place the margarine, vanilla, sugar and 3 tablespoons of the milk in a mixing bowl then beat with an electric mix on medium speed until the icing is smooth. Add more milk as needed until the icing is a smooth spreadable consistency.

Increase speed to medium high and beat until light and fluffy.