How to Make Muffins -
Turn Out Perfect Muffins Each and Every Time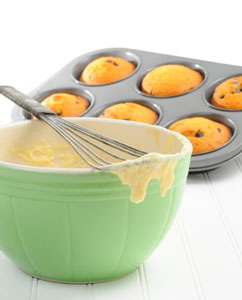 Learning how to make muffins is extremely easy and fun. Far easier than cakes or cookies.   There's no creaming butter or sugar, simply mix together in a bowl and you're done.

Once you learn the basics, you'll be turning out muffins of all kinds...

Sweet, savory, large or small.
Enjoy them hot or cold, served at breakfast, morning tea, afternoon tea or lunch.

Tips for Making Muffins


Muffins are often made from all-purpose flour then have a raising agent such as baking powder or baking soda added to make them rise.   But the same rules for baking apply here.  Accurate measuring is essential for success.


Combine the dry ingredients in a bowl. If you are adding spices to the mix, sift the flour with the raising agent and any spices together to mix them evenly.


The wet ingredients are always mixed separately in another bowl. 


Quick mixing is the secret to great muffins.   As soon as the liquids are added, the raising agents will start to work.    So the wet and dry ingredients are only mixed together when you are ready to bake.


Once the mixture has been mixed it needs to be placed in the oven almost immediately.  You can't leave muffin mixture sitting around for too long.


Over mixing your dough will result in muffins that are tough.  Use a spatula to fold the ingredients together.  Stir only until the flour is no longer visible.  This shouldn't take more than about 25 stirs. Remember the mixture won't be smooth.  But this won't matter, it doesn't have to be.

Successful Muffin Baking

Muffins are usually baked in a moderately hot (375ºF / 190°C) oven.
Using paper cases makes them easy to remove.
Spoon the mixture into the muffin holes or paper cases but only fill them about two-thirds full.
To make them even sizes, try to put the same amount of batter into each hole.
Bake until the tops are firm and golden brown.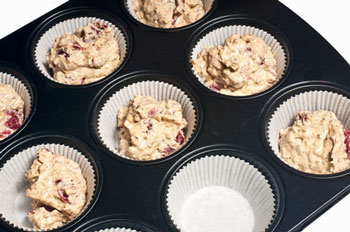 Cooking Times

Muffins can be made in any size from mini, regular or jumbo size.


Any muffin mixture can be cooked in any sized pan, simply adjust the cooking times.


Cook your muffins at a temperature of 190°C - 375°F according to the following:



Mini muffins: 10 - 15 minutes
Regular: 12 - 15 minutes
Jumbo or Texas muffins: 20 - 25 minutes



They are cooked when they spring back when lightly touched.
Storing
Six regular sized muffins will take 2 – 3 minutes to thaw from frozen in the microwave.
Once you learn the finer points of how to make muffins, you can create just about any flavored muffin you like.
Use whatever ingredients you have on hand, such as fresh, frozen or dried fruit, nuts, sweets, spices, jams or essences.