Low Fat Raspberry Muffins

I love raspberry muffins. In fact I love anything with raspberries, particularly desserts and baked goods. The sweet flavor of the raspberries seems to give them a refreshing tang.

These muffins are light, moist and tasty as well as being healthy.   By using buttermilk and oil rather than butter, and reducing the sugar, the calories are sacrificed rather than the flavor.
Prep Time: 15 minutes
Cooking Time: 25 minutes
Serves 12

Ingredients  
   2 cups plain / all-purpose flour
   3 teaspoons baking powder
   1 teaspoon cinnamon
   ½ cup superfine / caster sugar
   2 eggs
   1 cup buttermilk
   ½ cup oil
   1 cup fresh or frozen raspberries
How to Make

Step 1
Assemble your ingredients. If fresh raspberries are not in season you can easily substitute the frozen variety.
Preheat the oven to 200°C / 400°F. Grease a 12 hole muffin tin or line with muffin cases.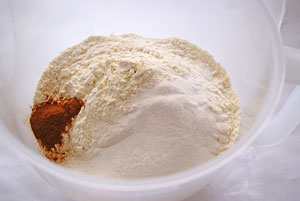 Step 2
Measure out the flour and sugar. Place the all-purpose flour, baking powder and cinnamon in a bowl and mix together with a whisk.   Add the sugar and stir.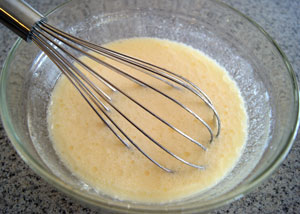 Step 4

In a small bowl beat the eggs then add the milk and oil.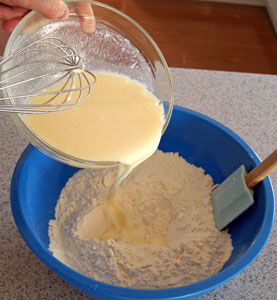 Step 5

Make a well in the center of the flour and pour in the liquids. Then gently fold into the dry ingredients until almost combined. Add the raspberries and continue mixing until the raspberries are mixed through and there are no streaks of flour. Then stop. Over mixing of your dough will result in tough muffins.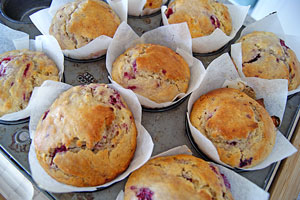 Step 6

Spoon the muffin mixture into the cases then bake for 20 - 25 minutes or until golden.  The tops of the muffins should spring back when touched. 
Allow the muffins to stand for a few minutes then carefully remove from the tin. 
 
Serve warm or cold. 

Tip

If using frozen raspberries, don't thaw first. You need them to hold their shape.