Orange Apricot Nut Bread
Slightly tangy, slightly sweet this apricot nut bread is light and moist as well as being very easy to make, like most tea breads.   Perhaps that's why I like making them so much.

Filled with nuts and apricots, the loaf is given a bit of a citrus tang with the addition of orange juice and orange zest.

Plus I was able to get hold of some plump and juicy sun dried apricots which made all the difference.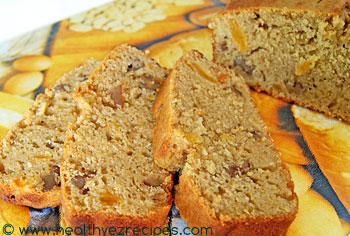 Preparation Time:  15 minutes
Cooking Time:  45 minutes
Serves 6

Ingredients

   125 g / 4 ½ oz unsalted butter
   ½ cup brown sugar
   ¼ cup orange juice
   2/3 cup buttermilk
   1 tablespoon finely grated orange zest
   1 ¼ cups self-raising flour
   1 ½ teaspoons mixed spice
   2 eggs, lightly beaten
   ½ cup chopped walnuts
   ½ cup finely chopped dried apricots
How to Make

Step 1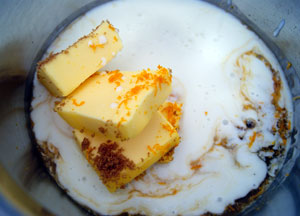 Grease a 23 cm x 13 cm x 7 cm / 9 x 5 x 3 inch (2 lb) loaf tin and line with baking paper.

Combine butter, sugar, orange juice, buttermilk and zest in a pan.  Stir over a low heat until butter is melted taking care not to let it boil.  Remove from the heat and set aside for 5 minutes to cool. 

Step 2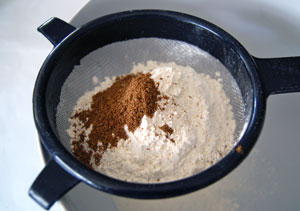 Sift the flour and spice into a large mixing bowl.

Step 3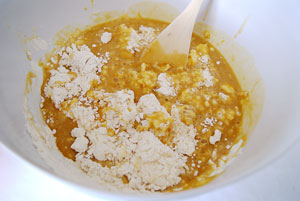 Lightly beat the eggs and add to the flour along with the cooled butter mixture.   Stir until almost combined, then add the chopped apricots and nuts.  Continue mixing until just combined and there are no streaks of flour.

Step 4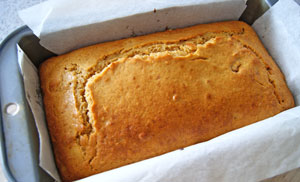 Pour the mixture into the prepared pan and bake in a moderate oven 180ºC / 350°F for 45 minutes or until cooked when tested.  To test insert a skewer in the center of the loaf.  It should come out clean.  If not, return the loaf to the oven for a further 5 minutes.

Remove from the oven and leave to cool down.    When cool enough to handle, lift the loaf out of the pan using the overhanging baking paper and turn out onto a wire to cool completely.
---
Serving
Serve warm spread with butter or cream cheese, or it's just as good served cold.
Storing
This loaf will store in an airtight container for up to 4 days.