Healthy Banana Nut Bread Recipe
This banana nut bread recipe contains less butter than other recipes, and no oil, without sacrificing that moist texture for which banana breads are renowned.

Although we have reduced the amount of saturated fats significantly, this loaf is just what you would expect from a banana bread, with all of the moistness, taste and texture.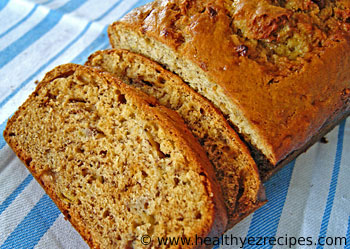 Preparation time:  15 minutes
Cooking Time:  55 minutes
Serves: 6 – 8

Ingredients

   2 cups all–purpose / plain flour
   ¾ teaspoon baking soda
   ½ teaspoon salt
   ½ teaspoon ground cinnamon
   1/8 teaspoon ground allspice
   ½ cup granulated sugar
   ½ cup brown sugar
   ¼ cup butter, softened
   2 large eggs
   1 ½  cups mashed ripe banana (about 3 bananas)
   1/3 cup low fat yogurt
   ½ cups chopped nuts
How to Make

Step 1

Preheat oven to 180ºC / 350°F.  Grease and line an 8 ½  x 4 ½ inch / 23 x 13 x 8 cm loaf pan with baking parchment.

Carefully measure out flour and place into a mixing bowl.  Add baking soda, cinnamon, allspice and salt and stir with a whisk.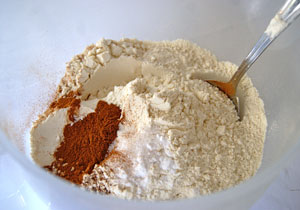 Step 2

Place sugar and butter in a large bowl, and beat with a mixer at medium speed until well blended.  Add eggs, one at a time, beating well after each addition.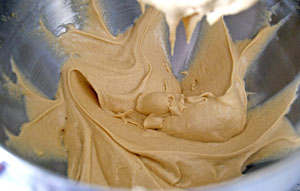 Step 3

Peel, chop and mash the bananas.  You will need about three.   The bananas should be very ripe, with the skins starting to go brown.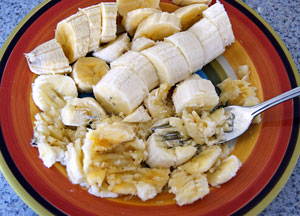 Step 4

Add the banana and yogurt to the mixture and beat on low speed until the ingredients are just combined.

Now that all the wet ingredients have been mixed together, it is time to add the dry ingredients.   Add the flour mixture to the bowl and mix at low speed until the mixture is moist and there are no streaks of flour remaining.   Stir in chopped nuts.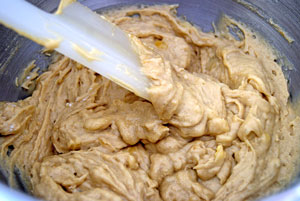 Step 5

Spoon batter into the prepared loaf pan.  Bake for 50 – 55 minutes or until a wooden pick inserted in the center comes out clean. 

Remove from the oven and leave to cool for 10 minutes in pan.

Turn out onto a wire rack and leave to cool completely. 
---
Cook's Tips

To make it even healthier, instead of using 2 cups of white flour, replace one cup with whole-wheat flour.