Lemon Yogurt Muffins
Muffins are amongst some of my favorite baked goodies because they are just so darn easy to make and these lemon yogurt muffins are the best. 

The principle is always the same.  Mix the wet and dry ingredients separately, then when ready to bake combine the two.  After 15 – 20 minutes in the oven you'll have steaming hot muffins ready to eat.  

Cutting down the butter and using yogurt makes these lemon muffins much healthier.

I decided to add more zing by drizzling over a lovely lemon glaze.  But whether you do this is entirely up to you.
Preparation Time:   15 minutes
Cooking Time:  15 minutes
Makes 12


Ingredients

   2 cups all-purpose / plain flour
   3 teaspoons baking powder
   ¼ cup sugar
   50 g / 1 ½ oz butter
   2 eggs
   1 teaspoon grated lemon rind
   ¼ cup lemon juice
   1 cup natural yogurt
   ¼ cup low-fat milk

Lemon Glaze

2 cups confectioners / icing sugar
2 tablespoons lemon juice


How to Make

Step 1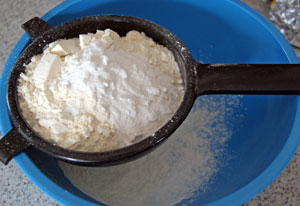 Measure out the flour and baking powder and sift together into a mixing bowl.  Add the sugar and whisk to mix together.
Step 2
| | |
| --- | --- |
| | Grate the zest of a lemon then squeeze out the juice.  |
Step 3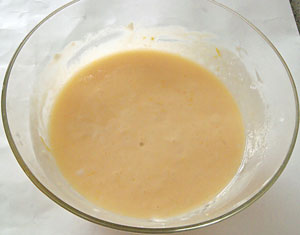 Add the eggs, lemon rind, lemon juice, yogurt and milk to a small bowl and beat together until smooth and creamy.

Step 4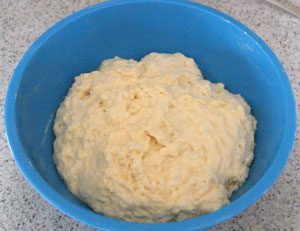 Melt the butter in the microwave.  Make a well in the center of the flour mixture and pour the combined melted butter and egg into the dry ingredients.
Gently stir until the wet and dry ingredients have been thoroughly mixed then stop stirring.    This should only take about 25 – 30 stirs.  It's quite okay if your mixture is a little lumpy.

Step 5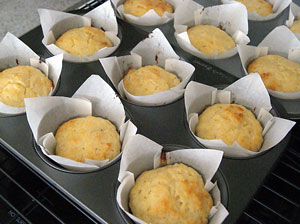 Spoon the mixture into the muffin cases until three quarters filled.
 
Bake at 200°C / 400°F for 15 minutes or until the muffins spring back when lightly touched.  The tops should be a light golden brown.
---
Lemon Glaze

Measure out 2 cups of confectioners sugar and sift into a mixing bowl.

Add 2 tablespoons of lemon juice and stir until smooth.

Adjust the lemon juice and sugar until you have the desired consistency.
 
Place the muffins on wire racks with a tray underneath to catch the drips.   Fill a spoon with the glaze then gradually drizzle the icing over the muffins while moving the spoon along the line of muffins.
---
Serving
Serve these yogurt muffins plain for breakfast or add the glaze and turn them into a sweet and healthy afternoon tea.