Lemon Poppy Seed Muffins that are low fat

If you've never cooked using poppy seeds before then you really must try this recipe as poppy seeds and lemon are just made to go together.

Healthy and low in fat these lemon poppy seed muffins have no butter in them.   The butter is replaced with yogurt, milk (all low fat of course) and sunflower oil and the result is a light and fluffy texture.

I decided to change this recipe slightly to make it even healthier.  Instead of topping the muffins with a lemon glaze made with sugar, I simply squeezed some of the lemon juice over the top of the warm muffins after they emerged from the oven.  It gave the muffins a wonderful citrus tang.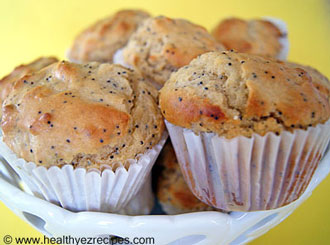 Preparation Time:  15 minutes
Cooking Time:  20 minutes
Makes 12

Ingredients

   2 cups all-purpose / plain flour
   4 teaspoons baking powder
   ½ teaspoon ground cinnamon
   1 tablespoon poppy seeds
   ½ cup brown sugar
   1 tablespoon grated lemon zest
   ½ cup sunflower oil
   2 eggs
   ¾ cup low-fat yogurt
   ¼ cup low-fat milk
How to Make

Step 1



Preheat the oven to 200ºC / 400°F.  Line a muffin tin with muffin cases.

Sift flour, baking powder and cinnamon into a bowl. 

Step 2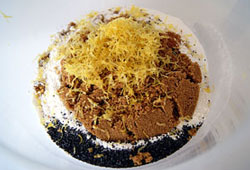 Add the poppy seeds and brown sugar.  Using a zester, grate the zest of one lemon, but don't discard the lemon.

Step 3


In a small bowl, beat together the oil, eggs, yogurt and milk until the ingredients are well combined.

Step 4
To combine the wet and dry ingredients, make a well in the center of the flour and pour in the egg mixture.  Gently fold the ingredients until just combined.  You should be able to do this in about 25 stirs or until there are no streaks of flour.

Step 5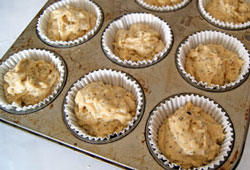 Spoon the mixture into the muffin tins until three-quarters full.    Bake  for 15 to 20 minutes or until muffins spring back when lightly touched.  Remove from the oven.

To Finish

Juice the lemon that you set aside earlier.  Pour the lemon juice over the top of the still warm muffins.   Leave to cool.

When the muffins have cooled sufficiently to handle, turn out onto a wire rack.