Strawberry Orange Muffins with Buttermilk
These strawberry orange muffins are so colourful and appealing.  Strawberry and orange is a great combination where the flavors seem to complement each other.
To add color and taste, we have added the strawberries to the top of the muffins.  We think it makes them look amazing.
We have tried to make these as healthy as possible, using buttermilk and vegetable oil rather than butter.
If you want more strawberry flavor, add diced strawberries to the mixture as well.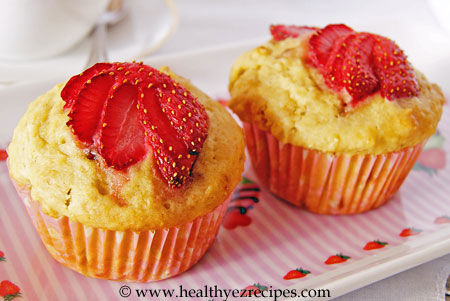 Preparation Time:  15 minutes
Cooking Time:  25 minutes
Makes 12
Ingredients
2 ½ cups plain / all-purpose flour
1 teaspoon baking powder
1 teaspoon baking soda
½ cup brown sugar, firmly packed
1 egg
½ cup vegetable oil
1 cup buttermilk
¼ cup orange juice
Grated zest of an orange
12 strawberries for decoration
How to Make

Step 1
Line a 12 hole muffin pan with paper cases.  Preheat the oven to 180oC / 350oF.
Sift flour, baking powder and baking soda into a large mixing bowl.  Add the sugar and mix all the ingredients together with a whisk.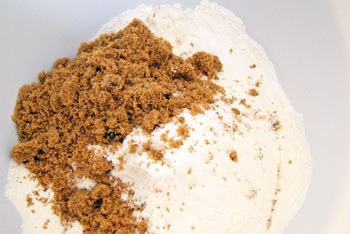 Step 2
In a small mixing bowl lightly beat the egg.   Add the oil and buttermilk.   Add the grated zest and juice of an orange to the mixture.  Give the mixture another stir with a whisk to thoroughly combine the ingredients.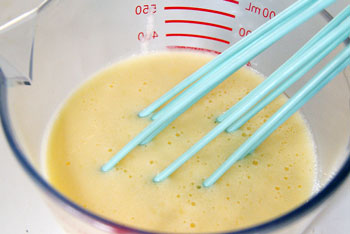 Step 3
Make a well in the center of the flour mixture and stir in the milk mixture.    Gently fold the ingredients together until just combined.   You should stir only until all the flour has disappeared.  The mixture will still be lumpy but that's okay.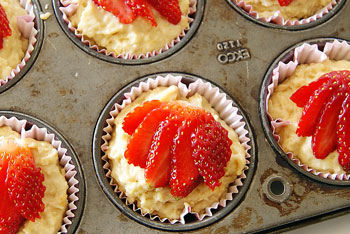 Step 4
Divide the mixture evenly among the paper cases.  
You will need 12 medium size fresh strawberries.    Chop the tops off the strawberries and slice thinly lengthways.      Be careful not to cut the full length of the strawberries.   Place each strawberry carefully over the top of each muffin, fanning them out in a decorative arrangement.  Press each berry lightly into the muffin batter otherwise they will move during cooking.
Step 5
Bake in a moderate oven for about 25 minutes or until cooked.     Your muffins will be ready when they turn a beautiful golden brown color.
Remove from the oven and leave in the tin for about 5 minutes, then turn out and arrange on a wire rack to cool down completely.