Whole Wheat Banana Bread with Honey

This whole wheat banana bread is unbelievably quick and easy.  There is no creaming of butter and sugar.   The whole thing is mixed together in a food processor.    A few minutes of processing and hey presto, your loaf is mixed.   

Yet it is light, moist and tasty with a hint of honey.   The honey is added to the recipe as well as brushed over the loaf after baking, giving it a slightly sweet tang that doesn't overpower the bananas.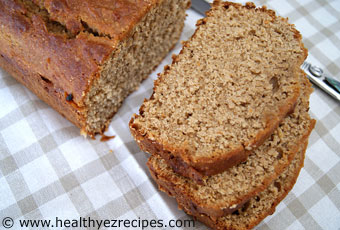 Preparation Time:  10 minutes
Cooking Time:  40 minutes
Serves: 8

Ingredients

   125 g / 4 ½ oz unsalted butter, softened
   ¾ cup soft brown sugar
   2 eggs, lightly beaten
   2 tablespoons honey
   2 ripe bananas
   1 ½ cups whole wheat (wholemeal) self-raising flour
   2 teaspoons ground cinnamon
How to Make

Step 1

Preheat the oven to 180°C / 350°F.  Grease an 8 ½ x 4 ½ inch / 21 x 11 cm bar tin and line with baking paper.  This will make it so much easier to remove the loaf later.

Place the butter and sugar in a food processor and process for 1 minute, or until lighter in color.  Add the egg and process until combined.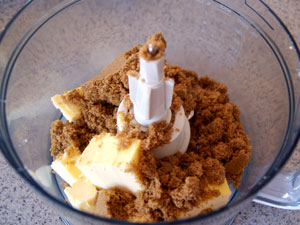 Step 2

Put 1 tablespoon of the honey in a saucepan over low heat and warm for 1 minute, or until runny.
Step 3

Peel and roughly chop the bananas then mash with a potato masher.  You don't need to be too fussy here.  You can leave them a bit chunkier. 

But remember, you need to use ripe bananas.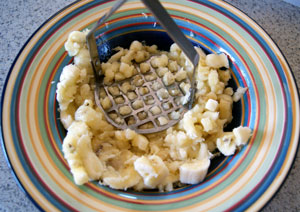 Step 4
Add the honey and mashed banana to the food processor and blend until smooth.  Add the flour and cinnamon and process until well combined.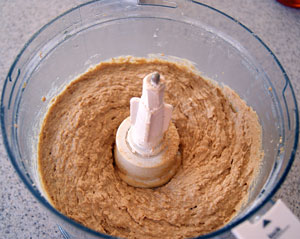 Step 5

Spoon evenly into the tin and bake for 35 – 40 minutes, or until a skewer comes out clean when inserted into the center of the cake.  Leave in the tin for 5 minutes before turning out onto a wire rack. 
Warm the remaining honey in a saucepan over low heat for 1 minute or until runny.  Brush the warm cake with the warm honey. 
Serving
This loaf can be served warm or cool and tastes just as good either way.
Storing
This will store in an airtight container for up to 5 days.