Banana Muffins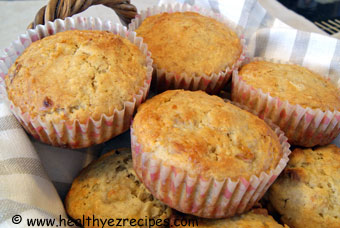 Banana muffins are probably THE most popular of all the muffin recipes. There are probably thousands of different recipes out there, but this is one of my favorites.
These muffins are light, moist and especially flavorsome.
I have made them with golden caster sugar for extra flavor and low fat milk to make them just that little bit healthier.
Tip:
Instead of golden caster sugar you can also use raw caster sugar or golden granulated sugar.
Prep Time: 15 minutes
Cooking Time: 25 minutes
Serves 8

Ingredients

    1 ¼ cups plain / all-purpose flour
    1 ½ teaspoon baking powder
    Pinch of salt
    1/3 cup golden caster / granulated sugar
    2 large bananas, mashed
    5 tablespoons low fat milk
    2 tablespoons butter, melted
    1 large egg, beaten
    ½ teaspoon vanilla extract

How to Make

Step 1
Preheat the oven to 190°C / 375°F and line a muffin tin with patty cases.

Assemble all your ingredients and measure out the flour and sugar.
Step 2
Sift together the flour, baking powder and salt into a large mixing bowl. Add the sugar.
Step 3
Peel and mash the banana in a separate bowl with a fork or a potato masher. Use either 2 large or 3 medium sized bananas.
Melt the butter in the microwave and add to the mashed banana, together with the milk, vanilla extract and beaten egg. Mix together until the bananas are fully mixed with the liquids.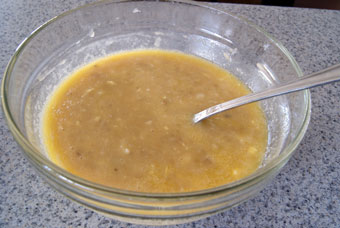 Step 4
Make a well in the center of the flour and stir in the banana mixture. Fold lightly until just combined. You should only need about 25 stirs.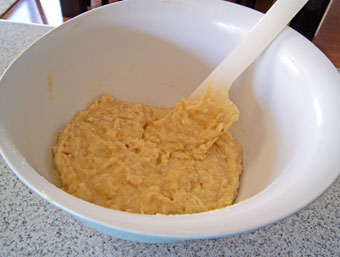 Step 5
Divide the mixture equally between the cases.
Bake in the oven for 20 - 25 minutes or until golden and firm to the touch.  
Remove from the oven and leave to cool slightly. Then turn out onto wire racks to cool completely.
---
Banana Nut Muffins

These basic muffins can be turned into nutty muffins by adding one cup of chopped pecan nuts.

The nuts add texture and flavor to an old favorite.