Healthy Toasted Muesli Recipe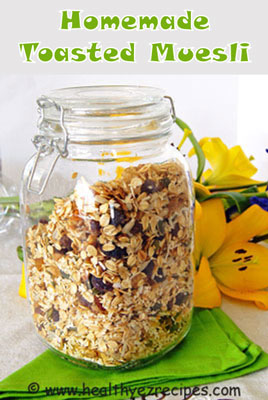 "Why should I go to the trouble of making my own muesli?" you may ask.   Quite simply, it is much healthier.    It takes just a little over half an hour to make and you only need to make it once a week, providing you with sufficient breakfasts for the week. 
Many breakfast cereals have added sugar and salt.   Our toasted muesli recipe is high in fiber, and low in sugar and salt.     This particular muesli recipe packs a real punch and provides all the nutrition you need to start your day.
Rolled oats, bran, seeds, nuts, dried fruit and coconut are mixed with honey, orange juice and orange rind.    Delicious on its own or with fresh fruit, it makes a simple and filling breakfast.
Preparation Time:  10 minutes
Cooking Time:  25 minutes
Makes 5 ½ cups
Ingredients
   1/3 cup honey
   1 tablespoon finely grated orange zest
   1/3 cup orange juice
   2 cups rolled oats
   ½ cup bran cereal
   ½ cup shredded coconut
   ½ cup pumpkin seeds (pepitas)
   1/3 cup sunflower seeds
   ¼ cup sesame seeds
   ¼ cup flaked almonds
   ½ cup sultanas
   ¼ cup chopped dried apricots
How to Make
Finely grate the zest of an orange then extract the juice. Place honey, orange rind and orange juice in a saucepan and heat gently over a medium-low heat. Cook, stirring, for 2 to 3 minutes or until the honey has melted.

Meanwhile preheat the oven to 180°C / 350°F and line a large, shallow baking dish with baking paper.

Combine the oats, bran, coconut, pumpkin seeds, sunflower seeds, sesame seeds and almonds in a large bowl. Pour over the honey mixture and stir thoroughly to combine. Spread the mixture evenly over the baking tray.

Bake for 20 to 25 minutes or until golden and crisp. Remove from the oven and leave to cool on the tray. When cool add the sultanas and chopped apricots. Give the mixture a good stir to combine all the ingredients.

Transfer your muesli to an airtight storage container such as a glass jar. Your muesli will stay fresh for up to 2 weeks.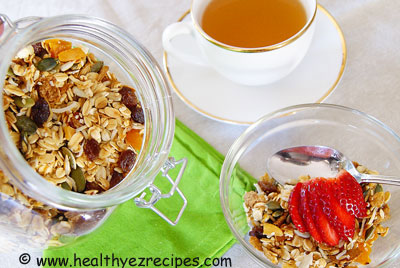 Serving
Fabulous served with vanilla yogurt or reduced-fat milk and topped with honey or fresh fruit.
Variations
Other fruits you could add to this muesli:
   Dried paw paw
   Dried bananas
   Dried cranberries
   Chopped raisins