Enjoy Your Oats Porridge With One of Our Fruity Toppings
Porridge is such a good old-fashioned breakfast stand-by that is so quick and easy.   The traditional rolled oats only takes about 7 minutes to cook, but the pre-cooked instant oats are even faster.  Ready in minutes.  Perfect for those hectic mornings.
There are so many ways to dress up oats porridge, that it need never be boring.   To keep your porridge healthy, skip the sugar and maple syrup.  Try adding dried fruit to the mixture during cooking, sultanas are one of my favorites.  Then top it off with one of our fruit toppings.   Fresh berries, if readily available, are perfect.  Otherwise use the frozen variety, but thaw first.
Excellent way to start the day.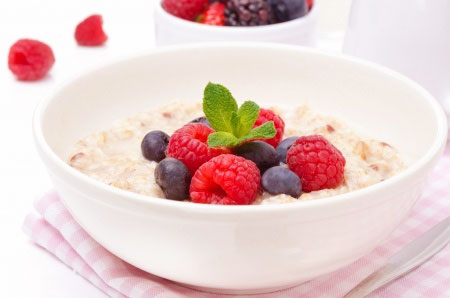 Preparation time:  5 minutes
Cooking Time:  10 minutes
Serves: 2
Ingredients
   1 cup rolled oats
   1 ½ cups water
   ½ cup milk
How to Make

Mix the oats with 1 ½ cups cold water in a small heavy-based pan. Stir in the milk and bring to the boil.

Cook the oats for about 7 minutes, stirring constantly until thick and creamy.

Serve immediately with extra milk, yogurt or one of our fruit toppings.
Quick Cooking Oats
For a quicker, easier version replace rolled oats with 1 minute oats (these have been precooked).
Variation
Stir ¼ cup of sultanas into the mixture for the last 3 minutes of cooking time.
Add 1/3 cup chopped mixed dried fruit.
---
Porridge Toppings
Banana Topping
   2 tablespoons honey
   2 tablespoons chopped unsalted toasted macadamia nuts
   1 large banana, sliced
Place honey and nuts in a small, non-stick frying pan over medium heat.  Cook, stirring, for 1 minute or until heated through.  Add banana.  Toss to coat.
Divide oat mixture between bowls.  Top with banana topping.  Serve with milk.
Mixed Berries Topping
   ½ cup frozen mixed berries
   1 teaspoon vanilla sugar
Thaw the mixed berries and place in a small bowl.  Add the vanilla sugar and mix together.  Top the oat mixture with the berry topping.
Pear Topping
   1 pear
   ¼ teaspoon cinnamon
   2 tablespoons orange juice
Peel and dice pear and place in a microwave-safe bowl.  Add the cinnamon and orange juice.  Microwave on high for 2 minutes.  Spoon over the oat mixture.