Make Your Own Muesli and Yogurt  Parfaits
Bored with your usual bowl of muesli or cereal?   Add some sparkle to your everyday breakfast fare with our muesli and yogurt recipes.  

Puree some fruit and layer it with your choice of yogurt and muesli.  Or chop your fruit and mix it in the yogurt.   

There are so many ways you can serve muesli and yogurt and turn it into a colorful and delicious parfait or sundae.     Use fresh, canned or dried fruit, depending on the season.  Top it off with nuts, dried fruit or coconut.    You will never view cereal the same again.

---
Mango Yogurt Sundaes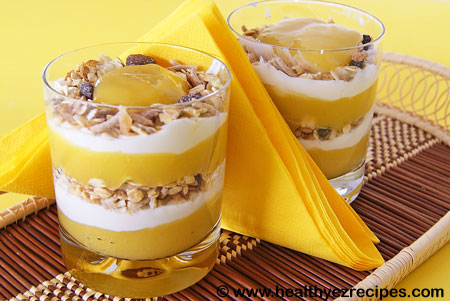 Ingredients

800 g can mango slices
1 1/3 cups Greek-style yogurt
1 1/3 cups toasted muesli

How to Make

Drain the mango and process in a blender or food processor until it is pureed.

You will need four 1 ¼ cup-capacity glasses.    Spoon two tablespoons of mango puree into each of the four glasses.

Top each with two tablespoons of yogurt, then spoon over 2 tablespoons muesli.

Repeat these layers once again, starting with the mango puree, then the yogurt and finishing with a layer of muesli.

Top with the remaining mango.

Variation:

This recipe is delicious frozen for a cool summer treat.   Simply top off with a layer of muesli.
---
Berry Yogurt Muesli
Ingredients

1 tablespoon honey
1 cup strawberries
1 ½ cups mixed fresh berries
1 ½ cups Greek-style yogurt
1 cup toasted muesli

How to Make

Place honey, strawberries and half the mixed berries into a processor or blender and blend until smooth.  Spoon into a bowl and leave for about 20 minutes to thicken.

Meanwhile divide the yogurt between 4 small bowls.  Top with the strawberry mixture.    Sprinkle the toasted muesli over the top.

Take the remainder of the mixed berries and sprinkle over the muesli.
---
Peachy Yogurt Parfait
Ingredients

1 can diced peach slices
1 ½ cups vanilla flavored yogurt
1 cup toasted muesli

How to Make

Drain the peach slices and dice into cubes.  Combine the peaches with the yogurt in a mixing bowl.

Spoon the yogurt mixture evenly among four serving glasses.  Top with your favorite toasted muesli.



---
Variations
We have shown you several different ways of serving muesli and yogurt.   But you may like to come up with your own variations.    Feel free to swap these recipes around and serve different fruits with different flavored yogurts.   

Other fruits which could be used are:

Apples
Apricots
Pears
Raspberries
Dates

Top off your breakfast dish with nuts, seeds or coconut flakes.