Fruit and Nut Rice Stuffing
If you are like me and looking for something other than the usual crumb based stuffings, then give rice stuffing a try. I sometimes find bread stuffing a little too heavy and was looking for a lighter alternative.
It's easy to make.  Just cook the rice according to the directions on the packet and add whatever ingredients you would normally use.
Dried fruit adds a wonderful flavor and stops the stuffing from being too bland.  It's also a good idea to add lots of herbs. Nuts adds crunch and texture and you can even add squeezed orange or lemon juice. 
You can use white or brown rice, or even wild rice for added color and texture.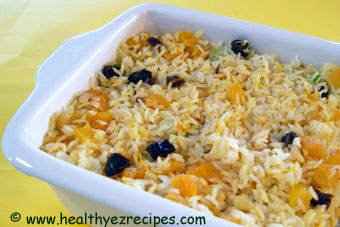 Fruity Rice Stuffing
Ingredients
3 cups cooked long grain rice
½ cup toasted pine nuts
1 ½ cups chopped dried apricots
1 ½ cups chopped pitted prunes
4 sliced spring onions (shallots or scallion)
1 tablespoon finely grated orange zest
1/3 cup orange juice
½ teaspoon salt
pinch of pepper
1 lightly beaten egg
How to Make

Cook the rice according to instructions on packet then add to large mixing bowl.

To toast the pine nuts place on a baking tray and cook in a moderate oven for about 10 minutes. Allow to cool.

Chop the apricots, prunes and spring onions.

To the rice add the pine nuts, dried apricots, chopped prunes, onions, orange zest, orange juice, salt and pepper.


Lightly beat an egg in a small bowl then add to other ingredients and stir to combine.




---

Brown Rice & Herb Stuffing

Ingredients
60 g / 2 oz butter
1 onion, finely chopped
2 cups cooked brown rice
1 cup chopped dried apricots
½ cup unsalted cashews, chopped
¼ cup chopped fresh parsley
2 tablespoons chopped fresh mint
1 tablespoon lemon juice
How to Make
Cook the rice according to instructions.

Heat the butter in a pan, add the chopped onion and cook until golden. Leave to cool.


Meanwhile chop the dried apricots, cashews, parsley and mint and add to the cooked rice. Squeeze the lemon juice and add. Season with salt and pepper.




Good to Know

If fresh parsley and mint are unavailable, the dried variety can be substituted.     
Recipes and Tips