Roast Turkey Recipe
No Thanksgiving meal is complete without a magnificent turkey roast gracing your table. Use our roast turkey recipe to create the perfect meal for Thanksgiving or Christmas.

Learn how to roast the perfect turkey, how to make the stuffing and more.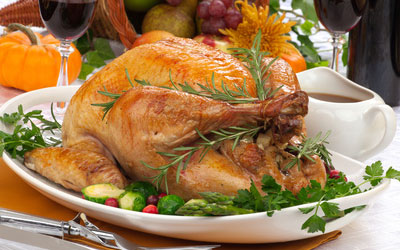 How to Roast a Turkey

You will need
5.5 kg / 12 lb fresh or thawed frozen turkey
2 cups water
80 g / 3 oz butter, melted

How to Make
Preheat the oven to 350º F (180°C). Remove the excess fat, giblets and neck from the cavity.

Wipe the outside and inside with damp paper towel. Spoon stuffing into the turkey breast. Bring neck flap over the back and secure with a poultry pin.




Spoon the remainder of the stuffing into the body cavity. Tie the legs together with kitchen string. Tuck the wings under.




Place on a rack in a deep roasting pan. Brush the turkey with melted butter. Pour 2 cups of water into the base of the pan.




Cover the turkey with non-stick baking paper. Then cover the pan tightly with foil. Roast for 1 hour.




Remove the foil and paper. Brush with more melted butter. Replace the paper and foil and bake for a further hour.




Uncover the turkey and brush again with melted butter. Leave uncovered and return to the oven for a further 1 1/2 hours or until golden and cooked through.




Remove from the oven, cover with foil and set aside to rest for 30 minutes.
This roast turkey recipe is based on a 12 lb or 5.5 kg bird. For cooking times based on weight, see this table.


Need a stuffing recipe?

You will need

3 cups fresh sourdough breadcrumbs
200 g / 7 oz fresh dates, pitted, coarsely chopped
120 g / 4 oz toasted hazelnuts, coarsely chopped
1/2 cup chopped fresh parsley
1 tbs finely grated lemon rind
1 egg, lightly whisked
How to Make

Process day-old sourdough bread in a processor. Combine the breadcrumbs with the chopped dates, hazelnuts, parsley, lemon zest and egg in a large mixing bowl.

Season with salt and pepper.


More Stuffing Recipes

| | |
| --- | --- |
| | Our stuffing recipes are easy and healthy. |
| | Why not try our rice stuffing recipe. Guaranteed to turn your turkey into a special feast. |