Stuffing a Turkey
You have the turkey ready and you have the stuffing made, now you need to know how to stuff your turkey.

Follow our directions below and you will have a perfectly stuffed bird to serve at either Thanksgiving or Christmas.

Make your next feast a triumph with our step by step instructions. Stuffing a turkey will seem easy and doable.


Preparing the turkey:

Rinse the bird under cold water and pat dry with paper towel.

Discard any remaining fat on the bird.

Sprinkle the body cavity with salt and pepper.


---
How to Stuff a Turkey
Firstly remove the excess fat, giblets and neck from the cavity. Pat the turkey dry with paper towel.





Using a tablespoon, spoon the stuffing loosely into the neck cavity.





Bring the neck skin over the stuffing and secure it to the body with a poultry pin.




Place turkey on its back with legs facing you.



To truss the turkey, pull the legs close to the body. Using unwaxed white kitchen string, bring the string over the legs then under and over the wings. Cross the string underneath the bird. Bring the string forward and upwards and tie the legs together.





Tuck wing tips under body to avoid over-browning while roasting.





Place on a rack in a shallow roasting pan breast side facing up. Brush with oil or melted butter if desired.





Insert an oven-safe meat thermometer into the thickest portion of the thigh making sure it does not touch the bone. Or use an instant-read thermometer toward end of roasting time.





If you are stuffing a whole bird it is essential that you use a meat thermometer. The center of the stuffing must reach a temperature of 165º F (75°C) to ensure that all bacteria are killed.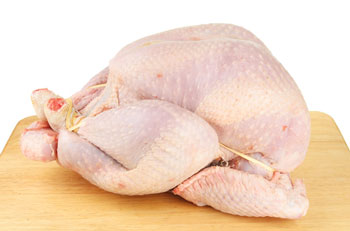 Tips for stuffing a turkey:

Do not stuff your bird until just before roasting.


The stuffing should be cool, not hot or chilled.


Pack loosely, as the stuffing will expand during the cooking process.


It is not a good idea to stuff a very large bird as the center of the bird may not cook sufficiently.



---
Need Stuffing Recipes?