Wrap Recipes - Healthy Fillings for Wraps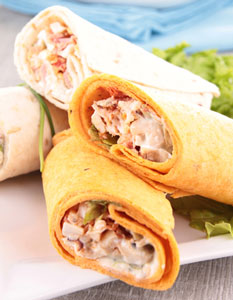 If you're tired of sandwiches, then opt for one of our wrap recipes.  But what is a wrap?  Wraps are really just sandwiches made out of flat bread and can be made with almost any sandwich filling.   But because the ingredients are enclosed in the bread you can pack a little more into a wrap.

You can also experiment a little more with flavors.   Think outside the box and try mixing and matching different breads, ingredients, and spreads.  Remember, almost anything can go into a wrap.
---
Bread

Any type of flat bread is suitable.

Roti
Tortilla
Pita
Naan
Lavash
Burritos

Filling

Any sandwich filling is suitable
for a wrap.

Meat/Fish
Chicken
Ham
Turkey
Roast beef
Corned beef
Meatloaf
Tuna

Vegetarian

Baked beans
Avocado
Cheese
Corn
Hard boiled eggs

Salad vegetables

Grated carrot
Alfalfa Sprouts
Cucumber (grated or cut into matchsticks)
Sliced green onions
Baby rocket
Lettuce
Tomato (thinly sliced or diced)
Coriander leaves
Baby spinach
Sliced celery
Red or green peppers
Finely shredded cabbage

Fruit

Sultanas
Pineapple slices
Mango
 
Spreads/Toppings

This is where you can be creative.  Dips and spreads are ideal for adding extra flavor.  Try:  Cream cheese, Greek yogurt, hummus, mayonnaise, sour cream, pesto, guacamole, mustard, sweet chilli sauce, chutneys, corn relish and salsa.

Wrap Recipes for you to try
Ham and Cheese Wraps
2 spinach wraps
2 tablespoons mayonnaise
2 lettuce leaves
1 Lebanese cucumber cut into matchsticks
80 g / 3 oz shaved ham
60 g / 2 oz grated cheese

Spread wraps with mayonnaise. Lay the lettuce leaves down the center, then top with cucumber sticks, leg ham and grated cheese. Roll up.
Chicken and Corn Wraps
4 sheets whole wheat lavash bread
125 g cherry tomatoes, diced
125 g can corn kernels, drained
2 green onions, finely sliced
2 tablespoons sweet chilli sauce
8 butter lettuce leaves
1 ½ shredded barbecued chicken
1 cup grated tasty cheese


Combine tomatoes, corn, onion and sauce in a bowl. Arrange 2 lettuce leaves over half of each lavash sheet. Top with tomato mixture, chicken and cheese. Roll up tightly and secure with baking paper.
Tuna Wraps
2 slices lavash bread
180g light cream cheese
125 g can corn kernels, drained
100g can tuna in springwater
2 tablespoons chopped fresh chives
2 tablespoon fresh lemon juice

Combine cream cheese, corn kernels, tuna, chives and lemon juice in a bowl and mix until combined. Spread over bread. Roll up firmly to enclose filling.
Corned Beef
1 wholemeal tortilla
1 tablespoon mayonnaise
1 teaspoon honey
½ teaspoon Dijon mustard
2 slices corned beef
½ tomato
¼ cup grated cheddar
Baby spinach leaves

Combine mayonnaise, honey and mustard and spread over tortilla. Top with silverside, thinly sliced tomato, grated cheddar and a few baby spinach leaves. Roll up to enclose filling. Cut in half.
Turkey Wrap
Lavash bread
1 tablespoon cranberry sauce
Slices of shaved turkey
½ avocado
Grated cheese
Snow pea sprouts

Spread lavash with cranberry sauce. Top with shaved turkey, sliced avocado, grated cheese and show pea sprouts. Roll up and cut in half.
Vegetarian Wrap
1 tortilla wrap
Shredded iceberg lettuce
¼ cup grated reduced-fat cheese
Chopped tomato
Baked Beans

Arranged shredded lettuce on wrap. Top with grated cheese, chopped tomato and baked beans along the center. Roll up to enclose filling
How to Make a Wrap
Have you ever made a wrap only to have it fall apart after the first bite?    Here are some tips to avoid any disasters:

THE most important tip: Don't overfill the wrap with ingredients. This is the biggest mistake most people make.

Warm tortillas in an ungreased pan for one minute each side.

Spread sauce or mayonnaise in a circle in the center.

Spread a small amount of filling down the middle.

Fold both sides of the wrap over the strip of filling towards the center.

Fold the bottom edge up over the filling. Keep rolling the tortilla up the rest of the way, finishing with the seam side down.

Cut the tortilla in half diagonally.