Chicken Wrap Recipes -
How to Use Leftover Chicken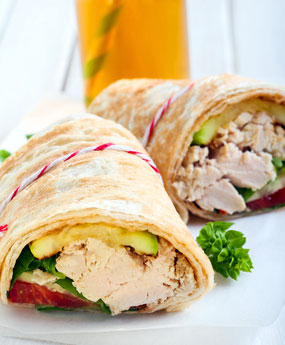 Ever wondered what to do with left-over chicken?  One way to use it up is to enjoy chicken wraps for lunch next day.    Left-over roast chicken, rotisserie or grilled chicken breast are ideal.
The great thing about chicken is that it can be combined with almost any salad vegetable, greens or even fruit.    By adding nuts, cheese, yogurt, herbs, mustard or lemon juice, the number of different flavor combinations is almost endless. 
These chicken wrap recipes will give you plenty of ideas and inspiration to mix it up and create your own.
Mustard Chicken Wraps
Ingredients
2/3 cup plain yogurt
1 tablespoon whole-grain mustard
10 oz / 280 g cooked skinless chicken breast, diced
Finely shredded iceberg lettuce
½ Lebanese cucumber, thinly sliced
2 celery stalks, sliced
4 x 10 inch soft flour tortillas


How to Make
Combine the yogurt and mustard in a bowl and season with freshly ground pepper. Stir in the chopped chicken and toss until the chicken is thoroughly coated with the yogurt.

Divide the lettuce evenly between the tortillas. Arrange the sliced cucumber and celery down the center of the wraps. Top with the chicken mixture. Fold up one end of the tortillas then roll.

Chicken and Tzatziki Wrap
Ingredients
½ cucumber, seeded and grated
½ cup plain yogurt
¼ teaspoon lemon juice
1 tablespoon chopped mint
Cooked chicken breast, diced
4 large butter lettuce leaves
4 sheets of lavash bread


How to Make
Sprinkle the grated cucumber with ½ teaspoon of salt and leave the cucumber for 10 minutes. This will get rid of the bitterness. Squeeze out any excess moisture.

Place the cucumber in a bowl and mix with the yogurt, lemon juice and mint.

Lay out the sheets of lavash and lay a butter lettuce leaf flat on each. Spread each sheet with a quarter of the tzatziki sauce, then top with the chopped chicken.

Fold up the ends then roll up the lavash. Wrap each one in baking paper to secure, then serve.

Chicken Caprese Wrap
Ingredients
1 tablespoon balsamic vinegar
1 teaspoon minced garlic
Pinch of freshly ground black pepper
4 cups chopped romaine lettuce
2 cups cherry tomatoes, halved
2 cooked, skinless, chicken breasts, shredded
2 tablespoons chopped or shredded fresh mozzarella cheese
½ cup chopped fresh basil
4 x 6 inch whole-wheat tortillas


How to Make
In a large bowl whisk together the balsamic vinegar, garlic and pepper.

Add the lettuce, cherry tomatoes, chicken, cheese and basil to the bowl and toss to combine.

Place the tortillas on a clean board and place about 1 cup of the chicken mixture down the center of each tortilla. Roll up and serve.

Avocado Chicken Wrap
Ingredients
1 medium avocado, mashed
2 teaspoons lemon juice
1 tablespoon low-fat mayonnaise
4 wholegrain wraps
Diced cooked chicken
1 carrot, peeled and grated
60 g / 2 oz baby spinach leaves


How to Make
Peel, deseed and mash the avocado and place in a bowl, along with the lemon juice and mayonnaise. Stir until all ingredients are combined.

Lay the wraps on a flat surface and spread a quarter of the avocado mixture evenly over each wrap. Arrange spinach leaves in the center of the wrap then top with grated carrot spinach leaves and chicken. Roll up to enclose filling.

Tropical chicken-Salad Wraps
Ingredients
1 cup chopped, cooked chicken breast
½ cup crushed unsweetened canned pineapple, drained
3 tablespoons toasted almond slivers
3 tablespoons Greek yogurt
1 tablespoon chopped green onion
Freshly ground black pepper
½ cup shredded lettuce
2 x 8 inch whole-grain tortillas


How to Make
Preheat the oven to 180°C / 350°F and arrange the almond slivers on a baking tray. Toast in the oven for about 5 minutes or until lightly browned.

Add the chicken, pineapple, almonds, yogurt and green onion to a medium bowl and mix until well combined. Season with pepper.

Place the tortillas on a flat, clean surface and spoon the chicken filling into the center of each tortilla.

Top with the shredded lettuce and roll the tortillas until secured.