Low Fat Carrot Cake - A Healthy Alternative
This low fat carrot cake has no butter at all in the recipe.   Made instead with sunflower oil, it is unbelievably moist and tasty and I promise you won't be able to taste the oil.

It is also long-keeping.  Mine stayed moist and fresh for 5 days.  Just make sure you store it in an air-tight container.
 
You can leave the cake un-iced, but the lemon icing given here gives it a wonderful tangy flavor and really just lifts the cake.  Use low fat margarine to keep it low fat.  All icings and frostings have sugar in them.  You simply cannot make them any other way.  But this recipe only uses 1 cup, far less than other recipes.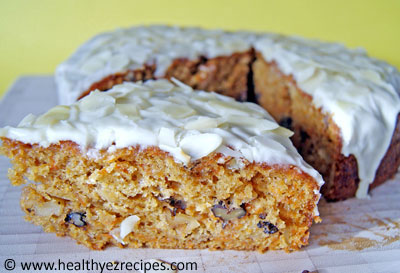 Preparation Time:  15 Minutes
Cooking Time:  50 minutes
Serves 6

Ingredients

   2/3 cup sunflower oil
   2 eggs
   1 cup firmly packed brown sugar
   1 cup self raising flour
   1 teaspoon baking soda / bicarbonate soda
   1 teaspoon grated lemon zest
   1 tablespoon lemon juice
   1 ½ cups grated carrot
   ¼ cup walnuts, roughly chopped
   ¼ cup pecan nuts, roughly chopped
   ¼ cup flaked almonds
   Extra flaked almonds for decorating
 
Lemon Icing

   1 tablespoon margarine
   1 tablespoon lemon juice
   1 cup confectioners / icing sugar
How to Make

Step 1

Preheat the oven to moderate 180ºC / 350°F.  Grease the sides and base of a 20 cm / 8 inch cake tin.  Line the base with non-stick baking paper.

Step 2

Grate the carrot.  If you have a food processor this is easy.  Simply use the grater attachment.  Otherwise use a box grater.

Step 3
Put the oil, eggs and sugar into a bowl and beat with an electric mixer.  Add the remaining ingredients except for the carrot and nuts.  Continue beating on low speed until combined.  Turn up the speed to medium and beat until the mixture becomes pale in color.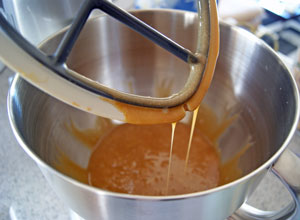 Step 4

Roughly chop the nuts and add to the bowl along with the grated carrot.   Fold the carrot and nuts through the mixture.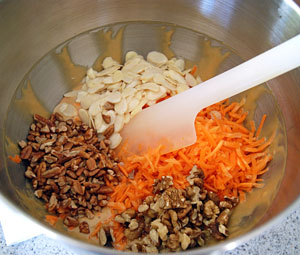 Step 5

Pour the mixture into the prepared tin.  Give the tin a few taps to level out the mixture.  Bake in the oven for about 45 – 50 minutes or until cooked.  To test if ready insert a toothpick into the middle.  It should come out clean.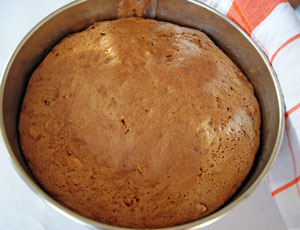 Remove from the oven and leave to stand for 5 minutes before inverting onto a cake rack.

When cooled drizzle over the lemon icing and decorate with extra flaked almonds.
How to make the lemon icing
Melt the butter with the lemon juice.  Tip into a mixing bowl.  Sift the confectioners sugar over the butter and stir well.  If the mixture is too runny, add a little more confectioners sugar, but be aware that it will firm as it cools. 

Place the cake on a wire rack with a tray underneath. Pour the icing over the cake so that it drips down the sides a little.