Green Salad Recipes with Homemade Dressings

You may think there's nothing more to green salads than throwing a few lettuce leaves in a bowl and drizzling over some dressing.  But a few limp lettuce leaves does not make an appetizing salad.
Green salad recipes are among the easiest salads to make.     Particularly as you can now buy bags of mixed lettuce leaves, known as mesclun.   It certainly saves you buying individual bags of lettuce.
Plus there is such a wide variety of salad greens available now.  Gone are the days when every salad consisted of iceberg lettuce.




---
So what makes a green salad special?
Make sure the greens are as fresh as possible.   They should be crisp with lots of color.
Don't restrict yourself to just lettuce leaves.   If it looks green and inviting then add it.
Use good a good quality vinegar and olive oil.
Remember, you don't need to drown your salad leaves in dressing.   You don't need to use much, just a small drizzle will do.
---
Mesclun Salad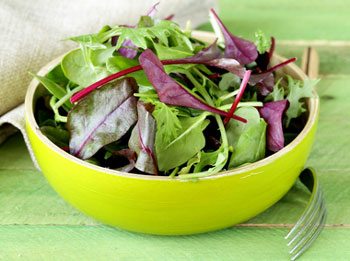 Ingredients

1 packet of pre-packaged mesclun leaves
1 Lebanese cucumber
1 green onion
How to Make

Slice the Lebanese cucumber and onion.  In a bowl toss the mesclun salad with the cucumber and onion and drizzle over the lemon dressing.


---
Green Salad

This is an easy salad you can make yourself by throwing a few different greens together.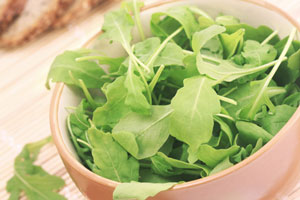 Ingredients

150g / 5 oz baby cos (romaine) lettuce
150 g / 5 oz small butter lettuce
50 g / 2 oz watercress
100 g / 3 ½ oz rocket (arugula)
How to Make

Remove the outer leaves from the cos and butter lettuce.  Wash the lettuce in cold water then dry.  Trim the stalks from the watercress and rocket.

Assemble all the ingredients in a salad bowl and drizzle over the dressing.
---
Green Vegetable Salad

A green salad doesn't just have to be made up of green leaves.  Other green vegetables can also be added.  Try this green salad recipe.
Ingredients

1 butter lettuce
1 cup green beans
2 stalks celery
3 spring (green) onions
1 Lebanese cucumber
1/2 green capsicum (bell pepper)
1 cup bean sprouts

How to Make
Wash lettuce and dry.  Tear into small pieces.  Slice and blanch green beans.  Slice celery, onions, cucumber and pepper. 

To assemble your salad, place the lettuce in a glass bowl.  Add the other ingredients in layers.  Sprinkle with French dressing.
---
Salad Dressings
Lemon Vinaigrette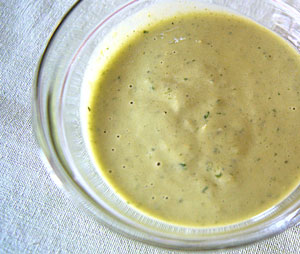 Ingredients

1 tablespoon chopped shallots
2 teaspoons Dijon mustard
½ teaspoon sugar
1 tablespoon finely chopped basil
1 teaspoon grated lemon zest
3 teaspoons lemon juice
1 tablespoon white wine vinegar
4 tablespoons extra virgin olive oil

How to Make
To make the dressing place the shallots, mustard, sugar, basil, lemon zest, lemon juice and vinegar in a blender.   As you blend slowly add the olive oil.   Continue blending until the shallots are chopped and all the ingredients are thoroughly mixed together.
---
Herb Mustard Dressing
Ingredients

½ cup extra virgin olive oil
3 tablespoons balsamic vinegar
1 heaping tablespoon Dijon mustard
1 teaspoon dried mixed herbs, or fresh thyme or oregano
Salt and pepper to taste.
How to Make

Add all the ingredients to a small mixing bowl and whisk until smooth.   Taste and adjust seasonings if necessary.  This dressing will store in a covered container for up to ten days in the refrigerator.
---
More Salad Dressings