Gluten Free Cupcakes -
with Chocolate and Hazelnuts

If you are looking for gluten free cupcakes then you should try these flourless chocolate cupcakes.

Unbelievably soft and moist, they contain absolutely no flour but are made instead from hazelnut meal and melted chocolate.   

So you get to enjoy the rich chocolaty taste while getting all the health benefits of hazelnuts.

Anyone looking for a gluten free chocolate cake recipe should try them.
Flourless Chocolate Cupcakes
Prep Time: 15 minutes
Cooking Time: 25 minutes
Makes 12

Ingredients

    ¼ cup cocoa
    ¼ cup hot water
    100 g / 4 oz plain (semisweet) chocolate
    100 g / 4 oz butter
    1 cup firmly packed brown sugar
    ¾ cup hazelnut meal
    3 eggs, separated
How to Make
Step 1
This recipe uses hazelnut meal instead of flour.  If it's unavailable you can easily make your own.
Step 2

Preheat the oven to 180°C / 350°F. Line a muffin pan with paper patty cases.
Place the butter and chocolate in a heatproof bowl and set this over a pan of simmering water and stir until the butter and chocolate have melted.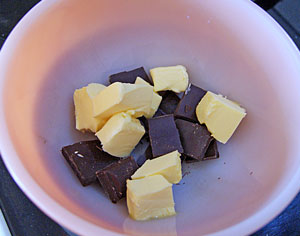 Step 3

In another bowl, mix the cocoa with hot water and stir until it is smooth.  Stir in the melted butter and chocolate mixture until you get a creamy, smooth mixture.

Add the brown sugar and hazelnut meal and stir until all the ingredients are thoroughly mixed.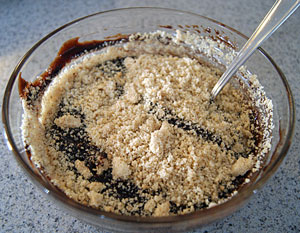 Step 4

Separate the eggs.  Add the egg yolks to the chocolate mixture.

Beat the egg whites with an electric mixture until they are at the soft peak stage.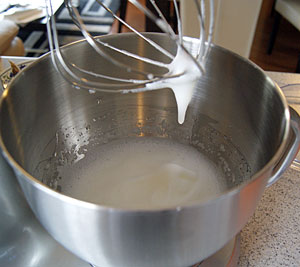 Step 5

Gently fold the egg whites into the chocolate mixture in two batches.

Line a muffin tin with paper patty cases.   Carefully spoon the mixture into the patty cases until they are about three quarters full.  I say carefully, because the mixture is quite runny and you need the mixture to go into the patty cases.
Step 6

Bake in the oven for 25 minutes or until the tops are firm.  Because there is no flour in these cupcakes, they won't rise as much as normal cupcakes do.  But I found they rose sufficiently to reach the top of the paper cases.

Leave them in the tin for about 10 minutes before turning them out.  Leave to cool completely then ice and decorate.


How to Decorate

To decorate your gluten free cupcakes cover them with a dark chocolate ganache or a chocolate buttercream.    Then top with chocolate or colored sprinkles. 
When making the buttercream, to keep them gluten free, use gluten free powdered sugar or pure icing sugar that contains no other starches.