Deliciously Moist Chocolate Zucchini Cake Recipe
If you have never tried mixing chocolate with zucchini before then I urge you to try this chocolate zucchini cake recipe.    Much like carrot cake, the grated zucchini seems to make this cake beautifully soft and moist and extremely well-keeping.

Not only that, this is a great way to get the kids to eat their veggies.  They will never guess the zucchini is in the cake, you certainly can't taste it.
Ingredients

   125 g / 4 ½ oz butter
   1 cup brown sugar
   ½ cup white sugar
   3 eggs
   1 teaspoon vanilla extract
   ½ cup low-fat yogurt
   2 ½ cups plain /all-purpose flour
   ¼ cup Dutch-process cocoa powder
   2 teaspoons baking soda
   1 teaspoon cinnamon
   ½ teaspoon mixed spice
   ½ teaspoon salt
   3 cups (350 g / 12 oz) grated zucchini
   Chocolate

How to Make

Step 1

Preheat the oven to 170ºC / 325°F.   Prepare a 9 x 13 inch cake tin by lining it with baking or parchment paper.

Step 2

Using an electric mixer, cream the butter with the sugars until light and fluffy.   The brown sugar will lighten considerably in color. 

Add the eggs, one at a time, and continue beating until the mixture is smooth and fluffy.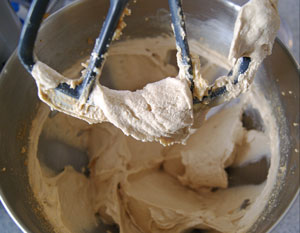 Step 3

In a separate bowl sift together the flour, cocoa, baking soda, cinnamon, mixed spice and salt.

Stir in the vanilla extract and yogurt until you have a nice creamy batter.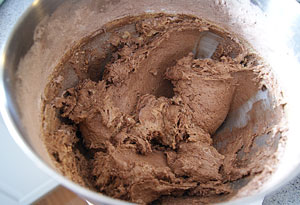 Step 4

Grate 3 cups of zucchini with the skin on.  You will need either a large zucchini or 2 small ones.   All the lovely moisture from the grated zucchini goes into the cake, so don't discard the moisture.

Add the flour alternately with the zucchini and stir making sure the zucchini doesn't clump together.   You want it evenly distributed throughout.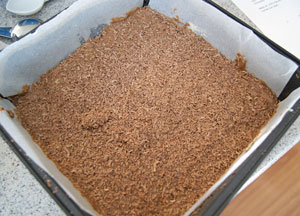 Step 5

Spoon the mixture into the prepared pan.  To make this extra chocolaty I grated some dark chocolate over the top of the cake, but this is purely optional.

Pop it in the oven and bake for 45 minutes.  To test for doneness insert a cake skewer or toothpick into the center.  It should come out clean.  If not return to the oven for a further 5 minutes then test again. 

Variation
Omit the grated chocolate and top the cake with a cream cheese frosting.