Homemade Chicken Noodle Soup Recipe -
Traditional Comfort Food

This chicken noodle soup recipe is as nourishing as it is appetizing.
Chicken noodle soup is one of those dishes that takes us back to our childhood. I have fond memories of being served steaming hot bowls of chicken soup while sitting up in my sick bed.  

Moms still do this of course, make up batches of chicken soup to soothe a cold or a fever.  But chicken soup needn't be reserved for times of illness.   This soup can be enjoyed any time.
Easy Shortcuts 
Use ready-make stocks.  Stocks are easily available nowadays as liquids, stock cubes and powders that contain no artificial flavorings. Personally I have no problems using them.
Use pre-cooked rotisserie chicken.

If you prefer to make your own stock, try this easy

chicken stock recipe

.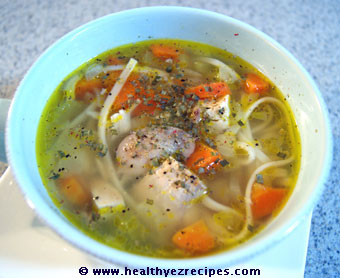 Ingredients
   1 ½ tablespoons butter
   1 brown onion, chopped
   3 large carrots, finely diced
   3 celery stalks, finely diced
   8 cups of chicken stock
   Chopped chicken
   85 g / 3 oz thin egg pasta such as vermicelli
   Finely chopped chives

How to Make
Step 1
Finely chop the onion and celery. Peel the carrots and cut lengthways in half and then quarters, then slice.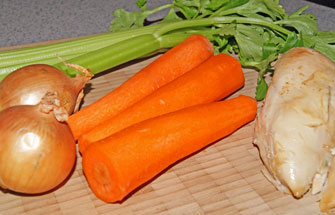 Step 2
Melt margarine in a large saucepan and add the onion, carrot and celery.  Cook, stirring occasionally, for 10 minutes or until the onion has softened.  This may seem like a long time, but it gives the soup extra flavor.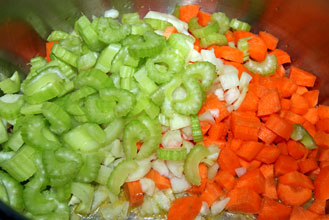 Step 3
Add the stock plus 2 extra cups of water and bring to the boil. 
Reduce the heat, cover and simmer for 10 minutes.
Step 4
Add chopped chicken and egg noodles and cook for a further 10 minutes or until the pasta is cooked and the chicken heated through.  
As the chicken is already cooked it only needs to be heated, not cooked.
Season with pepper and sprinkle over chopped chives.
Serving Suggestions

This chicken noodle soup recipe can be enjoyed any time by anyone. Chock full of chicken pieces, vegetables and pasta it is a meal in itself. Serve with crusty bread for a lunch time meal or a light evening meal.



Good to Know

If you use a ready-made stock you won't have cooked chicken on hand.  Just use a bought rotisserie chicken.