Homemade Chicken Stock Recipe

Delicious soup begins with a tasty and flavorsome stock. Although you can buy good quality ready-make stock these days, it is always handy to know how to make it yourself. This chicken stock recipe will form the basis for many delicious and appetizing soups.

Making chicken stock isn't hard, but it can be time consuming. You will need to allow at least 2 hours. If you're a busy mom, plan ahead by making it in advance and then freezing it.

There are many advantages in making your own stock:

Economical - Homemade chicken stock is simple and cheap to prepare


No artificial flavors or preservatives


When you make your own only the freshest ingredients are used


Full of flavor with very little fat and salt
Chicken Stock Recipe

Ingredients

   2 kg or 4 lb chicken
   2 carrots
   4 celery stalks
   1 large brown onion
   10 peppercorns
   Bouquet garni
   3 litres / 6 pts  of water
How to Make
Step 1

Roughly chop the carrots and celery. You don't need to be dainty here. They will be discarded anyway. Cut the onion into quarters.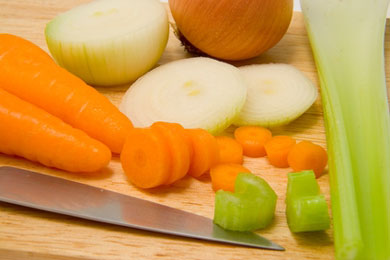 Step 2

Rinse chicken under cold water and pat dry with paper towel.

Place the chicken into a stockpot. Add the vegetables, peppercorns, bouquet garni and water.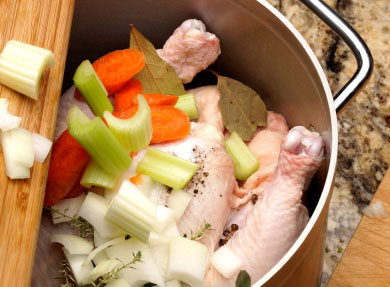 Step 3

Bring the stock to the boil, then reduce the heat, cover and simmer for 1 and half hours or until the chicken is cooked.

Remember to skim the surface regularly to remove any scum.

When cooked remove the chicken from the pot and set aside. The meat from the chicken can be used for chicken soup.
Step 4

Strain the stock through a fine sieve into a large heatproof bowl.

Discard the vegetables. Leave to cool. When sufficiently cooled, chill in the refrigerator.

Take a spoon and lift off any fat that has congealed on the surface.

Your stock is now ready to be turned into delicious soup.

What is bouquet garni

Bouquet garni is a bundle of herbs, either tied with string or wrapped in muslin. Parsely, thyme and a bay leaf usually form the basis. But marjoram, basil, burnet, chervil, rosemary, peppercorns, savory and tarragon can also be added. The bouquet garni is added to soups and stews during the cooking process, then removed prior to serving.