Apple Muffin Recipes

All of these apple muffin recipes can be created from our healthy basic apple muffin. Add blueberries for fruity muffins, or top with a streusel topping or cinnamon.

Moist and tasty as well as being healthy, they tick all the boxes.

Apple muffins are so versatile. The tartness of apples blends perfectly with almost anything.

You can achieve so many variations just by adding or changing a few ingredients.

First you will need our recipe.
Then try out some of our suggestions.  Or better yet create your own apple muffin recipes.

Apple Raspberry Muffins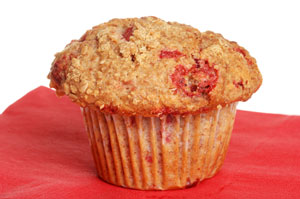 Make them fruity by adding raspberries or blueberries for a healthy breakfast. Serve with your favorite coffee and enjoy a leisurely breakfast or brunch.

How to Make

After adding the grated apple, add ¾ cup fresh raspberries. Then fold through very gently to keep them whole. If fresh raspberries are unavailable you can substitute frozen. If you want your raspberries to remain whole, don't thaw first.
---
Apple Blueberry Muffins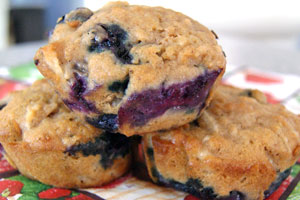 Blueberries also taste great with apple. Follow the directions as for the raspberry muffins, but use fresh blueberries instead. If using frozen blueberries, thaw first then drain away the liquid.
---
Apple Cinnamon Muffins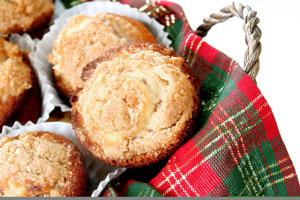 What about a cinnamon treat? Top with cinnamon sugar for a cinnamon and apple combination.

Cinnamon Topping

To make the cinnamon topping mix together ¼ cup sugar and 1 teaspoon cinnamon. Sprinkle over the muffins then bake according to directions.
---
Apple Streusel Muffins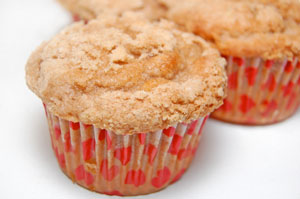 Or make them crunchy by adding a crumbly streusel topping.

Streusel Topping

2 tablespoons light brown sugar
2 teaspoons all-purpose / plain flour
½ teaspoon cinnamon
1 teaspoon margarine

In a small bowl combine the sugar, flour and cinnamon. Cut in the margarine until crumbly.

Spoon over the top of the muffins and bake in the oven.

Tip:

To keep these muffins healthy, use low fat margarine.