Waldorf Salad Recipe

The waldorf salad recipe is one of those classics that has stood the test of time.    Apart from being quick and easy to prepare, it can be served at almost any family gathering or meal, and as apples are available year round, is not restricted to just the summer months.
History

Created by the Maitre d'hotel of the Waldorf Astoria, New York in 1893, it was originally made with red-skinned apples, celery and mayonnaise.  Thereafter it was known as the waldorf salad.  Since then many other ingredients have been added, most notably walnuts.

Many variations have since been created using chicken, turkey and other more exotic ingredients, although the core ingredients always remain.   Without them it simply isn't a waldorf salad.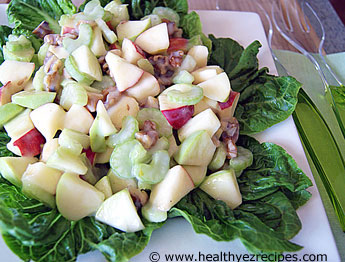 Preparation Time 20 Minutes
Cooking: Nil
Serves: 4-6

Ingredients

   2 green apples
   2 red apples
   4 celery sticks
   ½ cup chopped walnuts
   2 tablespoons lemon juice
   Lettuce
Dressing

   1 teaspoon lemon juice
   ½ cup fat free mayonnaise
   ½ tablespoon white sugar
How to Make
Step 1

Wash and dry the apples then quarter, remove the seeds and cores, then cut into bite sized pieces.   I've left the skins on my apples to give the dish some color.  I've also used both red and green apples for the same reason.
Place the apple pieces into a bowl.  Drizzle the lemon juice over the top and toss.  This prevents the apples from going brown and looking unsightly.
Step 2

Cut the celery into slices and chop the walnuts.   Add the celery and walnuts to the apples.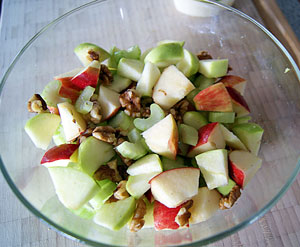 Step 3

Spoon the dressing over the salad and toss until everything is well coated with dressing.

To serve, line a bowl with lettuce leaves then carefully spoon the salad into the center.

Dressing 

Place the lemon juice, mayonnaise and white sugar into a bowl and stir until all the ingredients are well mixed.


Variation