Creamy Vegetable Curry Recipe
Not fond of hot, spicy curries?  Not everybody likes hot curries and it can be hard to get the kids to eat hot, spicy food.

So rather than risk burning your tongue, I urge you to try our vegetable curry recipe.   The vegetables are cooked in a creamy curry sauce made with coconut milk and yogurt.  It still has a bit of bite, but the mildly tasting curry sauce is aromatic rather than hot.  It's still a curry, but one which will appeal to most.

This dish is just chock full of veggie goodness and an easy way to get your five servings a day.   Substantial enough to be eaten as a main, serve with rice for a meat-free meal.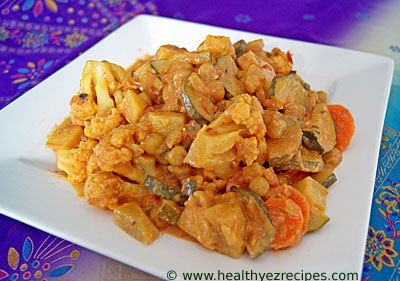 Preparation Time:  20 minutes
Cooking Time: 25 minutes
Serves 4 - 6

Ingredients

   2 tablespoons sunflower oil
   1 onion, chopped
   2 teaspoons cumin seeds
   2 tablespoons ground coriander
   1 teaspoon ground turmeric
   2 teaspoons ground ginger
   1 tablespoon sweet chilli sauce
   2 garlic cloves, crushed
   400 g / 14 oz can chopped tomatoes
   300 ml / ½ pint / 1 1/3 cups coconut milk
   1 small cauliflower, broken into florets
   2 courgettes (zucchini), sliced
   2 carrots, sliced
   1 potato, diced
   400 g / 14 oz can chickpeas, drained and rinsed
   ¾ cup Greek style natural yogurt
   2 tablespoons mango chutney
   Chopped coriander
How to Make

Step 1

Firstly you need to chop all your vegetables.   Dice the onion and potatoes.  Cut the courgettes lengthways then slice.  I do this if my courgettes are fairly large.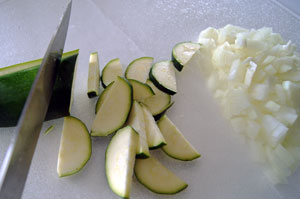 Step 2

Separate the cauliflower into florets and chop the carrots into slices.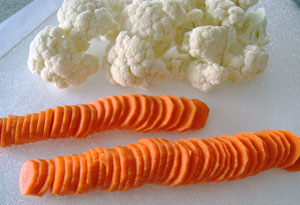 Step 3

Heat the oil in a saucepan and saute the onion until softened.
Step 4

Measure out the cumin, ground coriander, turmeric and ginger.  You must measure out these spices exactly.   Getting the balance right determines the flavor and heat of your curry.
Add the spices to the onion along with the garlic and sweet chili sauce and cook for a further minute.  This will help to release all those wonderful flavors.

Add the tomatoes and coconut milk and stir.   You will begin to smell all the aromas of the spices and the coconut milk.
Step 5

Add the cauliflower florets, courgettes (zucchini), carrots, potato and chickpeas.  Cover and simmer for 20 minutes until the vegetables are tender but with still a bit of crunch.  You don't want mushy vegetables.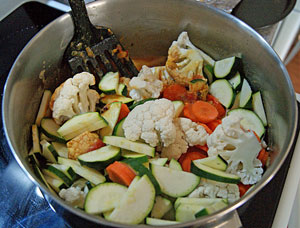 Step 6

Stir in the yogurt, mango chutney and fresh chopped coriander and heat through gently being careful not to let it boil.
How to Serve

Transfer to a warm serving dish and garnish with fresh herbs.

Serve with lots of rice or naan bread to mop up the delicious sauce.
Tip

You can use powdered coconut milk for this vegetable curry recipe. Simply mix 3 tablespoons powdered coconut with 1 ¼ cups of boiling water.