Vegetable Chili
A hearty meatless meal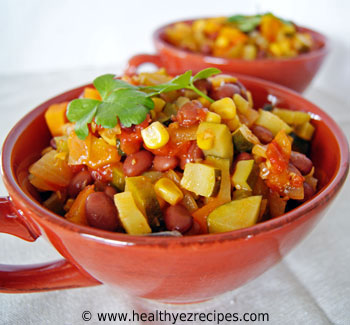 We are constantly being told we should eat more vegetables, so tasty vegetable recipes like this vegetable chili are always welcome.

This recipe can be made as hot or mild as you choose, so it's an ideal dish to serve when you are trying to cater for all tastes.

It is cooked in various stages, because not all vegetables need the same cooking time, so the vegetables will all be cooked to perfection at the end. 

And the bonus?  You only use one pot.
---
Preparation time:  15 minutes
Cooking time:  50 minutes
Serves 8

Ingredients

   2 tablespoons canola or sunflower oil
   2 onions
   3 sticks celery
   2 carrots
   2 garlic cloves, crushed
   ½ teaspoon celery seeds
   ¼ teaspoon cayenne
   1 teaspoon ground cumin
   2 tablespoons chili powder
   1 can chopped plum tomatoes
   1 cup vegetable stock
   ½ teaspoon dried thyme
   1 bay leaf
   1 small or ½ large cauliflower
   2 courgettes (zucchini)
   1 can sweet corn
   1 can kidney beans
How to Make

Step 1
First you need to prepare your vegetables.  I always like to have my vegetables chopped and prepared before I begin any recipe. 
Finely chop the onions, slice the celery and chop the carrots and courgettes into ½ inch cubes.  Divide the cauliflower into florets.  Crush two garlic cloves.

Step 2
Heat the oil in a heavy based saucepan and add the onions, celery, carrots and garlic.  Cover the pan and cook over a low heat for 8 – 10 minutes stirring from time to time, until the onions are softened.

Step 3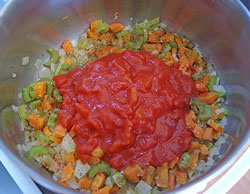 Stir in the celery seeds, cayenne, cumin and chili powder and mix well.  Add a can of undrained chopped tomatoes, stock, thyme and bay leaf and stir.  Cook for 15 minutes, uncovered.
How much chili powder you use is a matter of personal taste.  Start by adding a small amount, then add more if needed.  It's always easy to add more, you can't take it away once added.

Step 4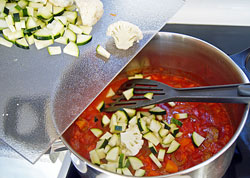 Drain the sweet corn and add to the pan, along with the cauliflower and courgettes.  Cover and cook for a further 15 minutes.

Step 5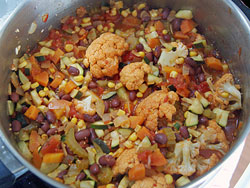 Add the drained kidney beans, stir well and cook, uncovered, for another 10 minutes.  Check the seasoning and add a dash of pepper sauce if desired.