Spicy Vegetable Casserole Recipe
I have to admit I've developed a taste for Moroccan flavors of late.  This vegetable casserole has a distinct Moroccan feel and will bring heat and spice to your kitchen. 
This vegetable casserole recipe is very simple and easy to prepare, yet unbelievably tasty.  
Once the vegetables have been sautéed and the sauce brought to the boil, everything is transferred to a casserole dish.
Then it's into the oven and left to cook until the vegetables are nice and tender.  
Your daily serving of vegetables all here in one dish.  In fact this is a meal in itself.  Ideal for a meatless Monday.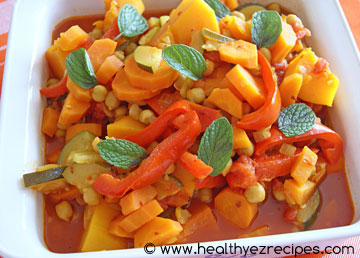 Preparation Time:  20 minutes
Cooking Time:  1 hour 50 minutes
Serves 4 - 6

Ingredients

   2 tablespoons oil
   1 onion
   3 carrots
   1 red capsicum (bell pepper)
   2 cloves garlic, crushed
   1 small orange pumpkin
   400 g / 14 oz can chopped tomatoes
   2 teaspoons chilli paste
   1 teaspoon ground turmeric
   1 cup vegetable stock
   Salt and pepper
   1 zucchini
   400 g / 14 oz can chickpeas (garbanzo beans)
   Mint Leaves
How to Make
Step 1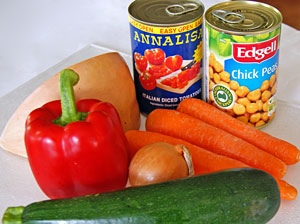 Preheat the oven to 180°C / 350°F. 

First you need to prepare your vegetables.  Crush the garlic and finely chop.  Finely chop the onion.  Peel and slice the carrots.  Deseed the pepper and dice.  Peel the pumpkin and chop into one inch chunks. 

Step 2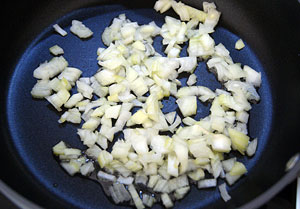 Heat the oil in a heavy-based pan and saute the onion until soft.   Add the carrots, capsicum (bell pepper), crushed garlic and pumpkin and sauté for a further 5 minutes. 

Add the chilli paste and turmeric and stir until the vegetables are well coated.  Saute for a further minute to allow the flavors to develop.   Stir through the tomatoes, pour in the stock and bring to the boil.

Step 3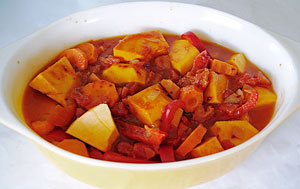 Transfer the mixture to a casserole dish with a lid.  Cover and cook in the oven for about 1 hour or until the vegetables are tender.

Step 4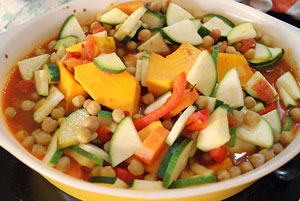 Remove the casserole from the oven.  Slice the zucchini lengthways and then slice each half again lengthways then add to the casserole.  Drain the chickpeas and add to the dish.  Return to the oven and cook for a further 15 – 20 minutes or until the zucchini is tender.
When cooked remove from the oven, transfer to a serving bowl and garnish with mint leaves.