Easy Homemade Tomato Soup Recipe
Rather than reach for a can of tomato soup, why not try making your own.   If you have the time it really is worth it.  The homemade variety tastes far superior than the canned version.
 
But unless you can find juicy, sun-ripened tomatoes the results can be disappointing.  It's very hard to get any flavor from hard, colorless tomatoes which have been sitting around in cool storage.
 
Which is why I prefer to use tinned tomatoes.  It also means you can make this soup year round and not have to worry about sourcing suitable tomatoes.
So next time you're in the mood for soup and crackers or soup and grilled cheese, try our tomato soup recipe.   It is thick, rich and quite yummy.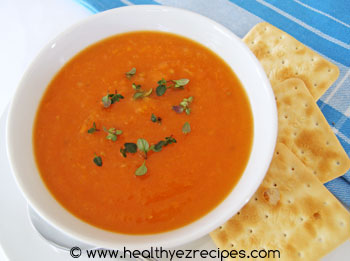 Preparation Time:  15 minutes
Cooking Time:  1 hour 10 minutes
Serves 4 – 6

Ingredients

   1 tablespoon vegetable oil
   1 onion
   2 carrots
   2 sticks celery
   1 clove of garlic
   2 x 14.5 ounce (400 g) cans diced tomatoes
   3 drained sun-dried tomato halves
   2 bay leaves
   1 teaspoon white sugar
   5 cups chicken stock
   Freshly ground black pepper



How to Make

Step 1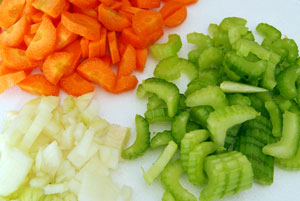 First prepare your vegetables.  Finely chop the onions, crush the garlic, slice the celery, peel and chop the carrots

Step 2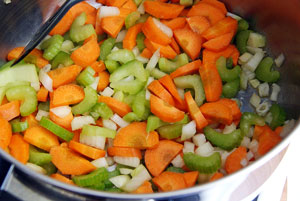 Heat the oil in a large pan and gently cook the garlic, onion, carrot and celery over a low heat for about 10 minutes.  You want the vegetables to soften and become transparent but not browned. Stir the vegetables occasionally to prevent them burning.

Step 3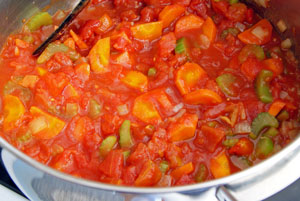 Chop the sun-dried tomatoes and add to the pot.  Add the tinned tomatoes and sugar. 

Step 4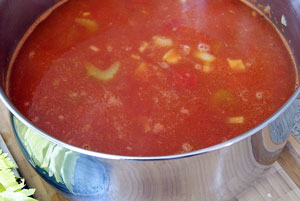 Add the stock to the pan, season with freshly ground pepper, add the bay leaves and bring to the boil.  Reduce the heat and simmer for about 1 hour.
Remove from the heat, remove the bay leaves and leave to cool slightly.

Step 5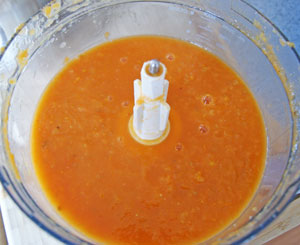 Ladle half of the soup into a food processor or blender and process until smooth.   Pour the soup into a bowl after each batch.  Repeat the procedure with the remaining soup. Return the soup to the pan and heat until piping hot.  Add salt and pepper to taste.

Serving
Divide the soup evenly among 6 bowls and garnish with thyme.   Serve with crusty bread.

I've used chicken stock for this recipe.  But you could use vegetable stock to make it vegetarian.

Enjoy this recipe?
You might like to try our roasted tomato soup