Baby Roma Tomato Basil Salad
This tomato basil salad is quick and easy to make but big on taste.   

Delicious with a barbecue or as a side with a light summer meal, this salad ticks all the boxes for taste and health.

Simplicity itself - not much can go wrong with such a simple recipe.   But it's for this reason that you need to use the freshest ingredients and good quality olive oil.

Roma tomatoes are ideal for use in salads because of their sweet, rich flavor.   With some olive oil and fresh herbs they need very little other adornment.   It really is all about the tomatoes.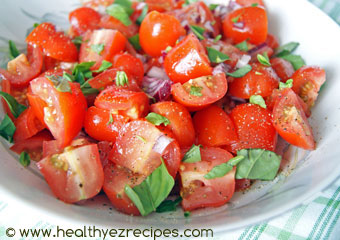 Prep Time: 15 minutes
Standing time: 2 hours
Serves 8
Ingredients

   3 punnets baby roma tomatoes, quartered
   1 small red onion, finely chopped
   2 tablespoons extra-virgin olive oil
   1 tablespoon red wine vinegar
   ¼ cup fresh baby basil leaves


How to Make


Step 1
Wash and dry your tomatoes then cut into quarters.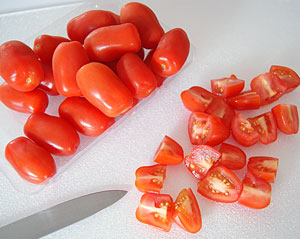 Step 2
Finely chop the red onion.  You will need either 1 small onion or half a large one.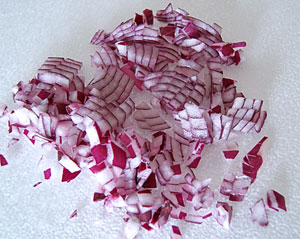 Step 3
Now for the dressing.  Place the olive oil and red wine vinegar into a small screw top jar and shake vigorously until well combined.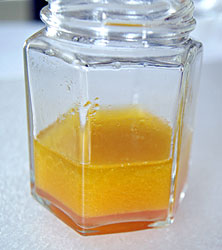 Step 4
Place the tomatoes and onion into a bowl and sprinkle over the prepared dressing.  Toss gently to combine.  Cover and leave for about 2 hours.  This allows the flavors to develop.



Serving
When ready to serve, remove the cover and sprinkle with a few chopped basil leaves.  Season to taste with salt and freshly ground pepper.  Toss the salad again very gently so that the herbs are distributed throughout the salad.

Transfer the salad to a shallow dish and serve.
Variation
If you can't get baby roma tomatoes use regular roma tomatoes instead and just cut them into bite-sized pieces.

Tip

When using olive oil for salads, use the extra-virgin variety and buy the best quality you can afford.