Italian Tomato and Mozzarella Salad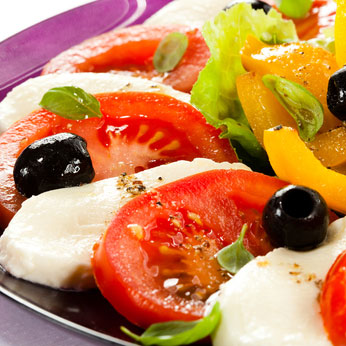 This tomato and mozzarella salad is simplicity itself, but because of this, it also means that you absolutely must use the best quality ingredients.   

Beautifully ripe tomatoes, fresh mozzarella and a good quality olive oil are essential for the success of this dish because there is literally nowhere to hide.
Tomatoes should be in season and the mozzarella fresh.  Fresh mozzarella has a rather bland taste and so is ideal as it won't overpower the other ingredients.  Let their flavors shine.
Preparation Time: 10 minutes
Cooking Time:  2 minutes
Serves 4 - 6

Ingredients

   6 tomatoes, sliced
   250 g / 8 oz mozzarella, drained and sliced
   90 g / 3 oz black olives
   Black pepper
   Basil leaves

Dressing

   3 tablespoons extra virgin olive oil
   1 clove garlic, crushed
   2 teaspoons balsamic vinegar
   2 tablespoons chopped fresh basil
How to Make

Thickly slice the tomatoes and the mozzarella about ¼ inch thick.

Now you need a large square or round platter as your salad needs to be laid out flat.

Arrange your salad by alternating slices of tomato with slices of mozzarella so that they overlap. There are several decorative ways of doing this.

You can arrange the salad in very neat rows or you can make a circular pattern. Either looks good.

Top with the black olives. You can add a few basil leaves between the layers if you want to add some greenery.

Prepare the dressing, drizzle over the salad then season with freshly ground black pepper.
How to Make the Dressing
Heat oil and garlic in a small pan over a low heat for 2 minutes until garlic has softened.  Remove from heat, add vinegar and basil, whisk to combine and pour over salad.
Tip

Make this dish when tomatoes are in season to get the best quality.