Sweet Potato Salad

This sweet potato salad is a fabulous alternative to your normal potato salad.

Kumara has a sweet, delicate flavor and so doesn't need a rich, creamy mayonnaise.

The oil and vinegar based dressing with wholegrain mustard gives the salad just enough bite without drowning out the flavors.  It complements the ingredients rather than overpowering them.

Try it at your next barbecue or family gathering.  It won't disappoint.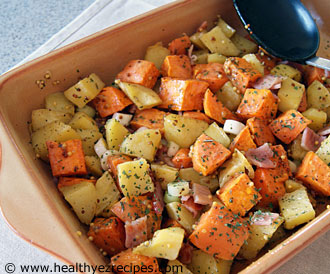 Potato and Kumara Salad

Prep Time: 25 minutes
Cooking Time: 45 minutes
Serves 8
Ingredients

   1 kg / 2 lb potatoes
   1 kg / 2 lb sweet potatoes or kumara
   2 tablespoons olive oil, plus ¼ cup extra
   200 g / 7 oz bacon rashers
   2 tablespoons red wine vinegar
   1 tablespoon wholegrain mustard
   1 tablespoon honey
   6 green onions
   ¼ cup chopped parsley
How to Make

Step 1
Peel the potatoes and kumara and cut into 2.5 cm / 1 inch pieces.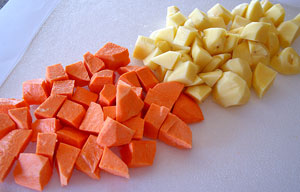 Step 2

Preheat the oven to 180°C / 350°F.  Line two baking trays with baking paper.

Place the potato in a single layer on one of the trays and drizzle over 1 tablespoon of the oil.   Give the potatoes a stir to evenly distribute the oil. 

Place in the oven and set the timer to 45 minutes.

Meanwhile repeat the process with the sweet potato, making sure the kumara is evenly covered with the oil.  Place the sweet potato into the oven 10 minutes later.  The kumara needs to be cooked for 35 minutes.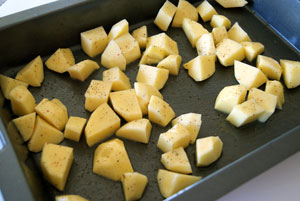 Step 3

While the potato is cooking you can prepare the rest of the ingredients.

Chop the bacon into pieces and remove the rind.    Place the bacon into a frying pan and cook over a medium to high heat until it is crisp.  Stir the bacon while cooking so that it cooks evenly and doesn't burn.  Remove and drain on paper towels.

Step 4

To make the dressing combine the extra oil, vinegar, mustard and honey in a small screw-top jar.  Shake well until all the ingredients are combined.



Serving
To assemble your salad, place the potato and kumara into a large oblong dish.

Slice the green onions.  Add the onions and bacon to the potatoes.  Drizzle over the dressing and toss until all the ingredients are coated with the dressing.  Sprinkle with the chopped parsley.