Strawberry Spinach Salad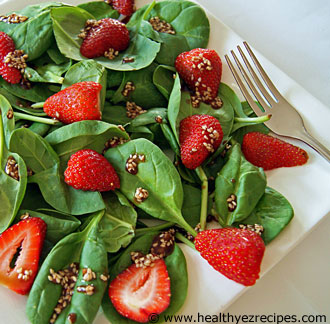 Strawberries can be paired with just about anything.  They add color and a refreshing burst of flavor.
But they go particularly well with greens.  Especially baby leaf greens because of their sweetness.
Strawberries have a sweet, delicate flavor so I have opted to use a herb vinaigrette that doesn't overpower their flavor, but rather complements it. 
Because the dressing is light and low fat, you can enjoy this strawberry spinach salad guilt-free.
Simply add toasted nuts for added crunch and texture.
---
Prep 10 minutes
Chilling time: 1 hour
Serves 4-6

Ingredients

1½ cups strawberries, quartered
6 oz / 170 g baby spinach leaves
2 tablespoons flaked almonds, toasted
1 tablespoon finely chopped fresh mint
¼ teaspoon black pepper
Dressing
3 tablespoons white wine vinegar
½ tablespoon honey
Pinch of salt
1/3 cup olive oil
1 tablespoon chopped fresh basil
1 tablespoon minced fresh chives

How to Make

Step 1
I prefer to use baby spinach leaves for this recipe because they are tender and sweet.  Plus if you buy one of the pre-packaged bags of fresh baby spinach this makes it much easier. 

Wash the strawberries, then hull and slice.
Step 2

Toast the flaked almonds and allow to cool.

Step 3
In a large bowl combine the spinach, strawberries and almonds.

To serve drizzle the dressing over the salad and sprinkle with freshly ground pepper.
How to Make the Dressing
To make the dressing combine the white wine vinegar, honey and salt in a medium bowl.  Slowly whisk in the oil until all the ingredients are totally combined.
Stir in basil and chives.  This dressing can be stored in the refrigerator for up to 5 days.

Variation
Tip

Dress the salad just before serving, so that the spinach leaves remain fresh and not wilted.