Spiced Poached Pears in Orange and Ginger Sauce
I've taken that most classic of desserts, poached pears, and given them my own little twist. 
Rather than poach them the traditional way with wine, I've gone for a tangy orange sauce with a hint of ginger and cinnamon.   The sauce infuses the pears with a sweet, slightly spicy flavour.
These spiced poached pears are perfect if you want a non-alcoholic dessert that is elegant enough for a special occasion.  In fact the flavors would be perfect for the holiday season filling your kitchen with those wonderful holiday aromas.
Any variety of pear can be used for cooking, but I would recommend a firm variety for this recipe, such as Bosc.   The pears need to hold their shape during the cooking process.  A soft variety would simply become too mushy.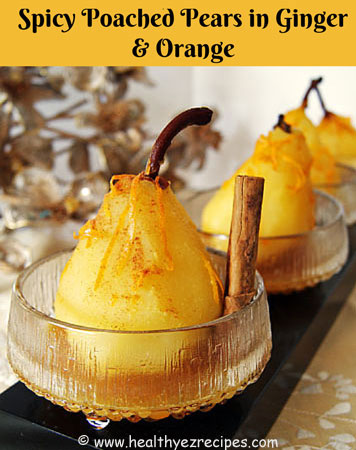 Preparation time:  10 minutes
Cooking time:  35 minutes
Serves:  4

Ingredients
4 medium firm pears
1 cup orange juice
1 cup water
Orange Zest
Lemon Zest
Cinnamon stick
1 teaspoon grated fresh ginger
2 tablespoons light muscovado sugar
Grated orange rind for garnish
How to Make

You will need a saucepan wide enough to hold the pears in a single layer without crowding.  To the pot add the orange juice, water, lemon and orange rind, cinnamon stick, ginger and sugar.  Place over a medium heat and cook, stirring until the mixture comes to the boil and the sugar dissolves.  Remove from the heat and set aside.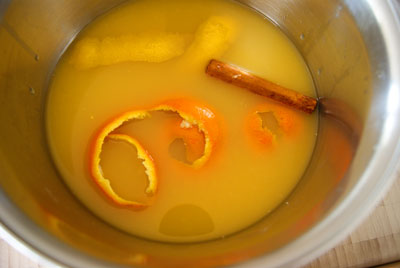 Thinly peel the pears, leaving them whole and with the stalks intact. Arrange the pears in the pot without crowding them.   It's quite okay to lay the pears on their side while poaching them, they don't have to be standing upright.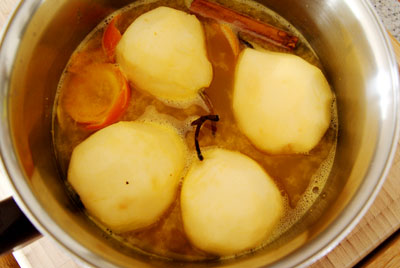 Spoon the sauce over the pears so they are well coated, then cover and leave to simmer over a medium-high heat for about 20 to 30 minutes, or until tender.  Baste the pears occasionally so that they cook evenly and absorb the flavors.    The pears are ready when they can easily be pierced with a sharp knife.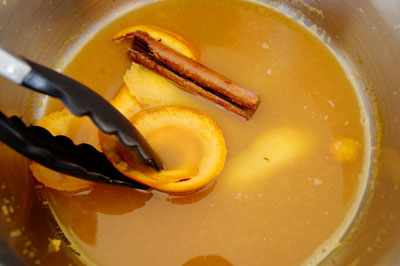 Using a slotted spoon remove the pears from the pot and transfer to a bowl.    Bring the liquid back to the boil and rapidly boil down the syrup until it's reduced by half.  Remove the lemon and orange rind and cinnamon stick.

Pour the sauce over the pears and sprinkle with ground cinnamon.   Garnish with grated orange zest.

Cook's Tip

These pears are delicious served warm, at room temperature or chilled.


Variation
Instead of orange juice try apple cider instead.