Roasted Butternut Pumpkin Soup
Roasting vegetables is a classic way of adding flavor, it makes them so much sweeter.  It works just as well with this roasted pumpkin soup.

Pumpkin on its own is rather bland.  But roasting it first gives it a much richer and sweeter flavor.    Carrots also have a rather sweet taste.  So here we combine the two, adding a bit of cumin for some spice, and what you end up with is a very tasty, hearty soup.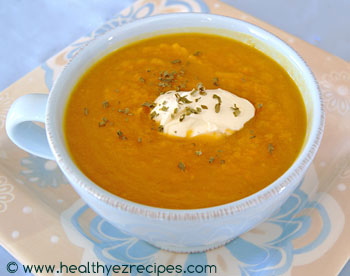 Preparation Time:  20 minutes
Cooking Time:  55 minutes
Serves 6

Ingredients

   1.25 kg / 2 lb 12 oz pumpkin
   2 tablespoons olive oil
   1 large onion,
   2 teaspoons ground cumin
   1 large carrot
   1 celery stick
   4 cups chicken or vegetable stock
   Sour cream, to serve
   Finely chopped parsley or chives to serve
How to Make

Step 1

Peel the pumpkin and cut into chunks.  Preheat the oven to 180ºC / 350°F.  Line a baking tray with tin foil and put the pumpkin on the tray.  Lightly brush with half the olive oil.  Bake in the oven for 25 minutes or until softened and slightly browned.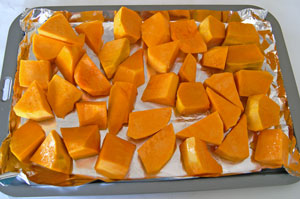 Step 2

Finely chop the onion and slice the carrot and celery.  Heat the remaining oil in a large saucepan.  Cook the onion and cumin for 2 minutes to release the flavors of the cumin.  Then add the carrot and celery and cook for 3 minutes more, stirring frequently.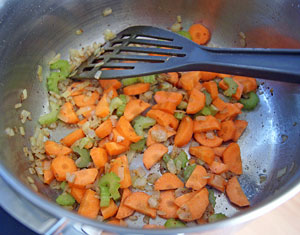 Step 3

Add the roasted pumpkin and stock and bring to the boil.  You can use either chicken or vegetable stock for this recipe.  Reduce the heat and leave to simmer for 20 minutes.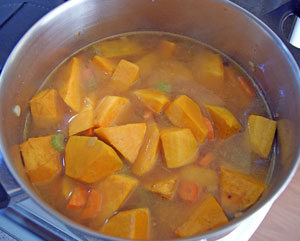 Step 4

Remove from the heat.   Let the soup cool down a little before pureeing rather than trying to work with piping hot pumpkin soup.

Process the soup in batches.  Spoon chunks of pumpkin and vegetables into the bowl of a food processor along with a little of the stock.  Don't use all the stock to start, just keep adding a little at a time until you achieve the right consistency.  You can make this soup as thick or as thin as you like.  Personally I prefer a thick, rich soup.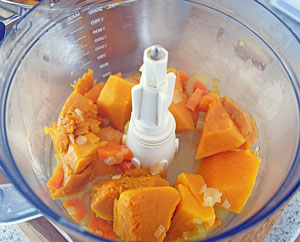 Step 5

Return to the pan and gently reheat, but don't bring it back to the boil.  Season to taste with salt and pepper.

Ladle soup into bowls and top with sour cream and chopped parsley or chives.   Serve with crusty bread.
Variation
Sprinkle the soup with ground nutmeg before serving.

Good to Know

I used butternut pumpkin for this recipe as it has a sweeter flavor than other varieties.


Enjoy this soup?  Other recipes you might like: