Red Potato Salad Recipe with
Dill and Mustard Dressing
There are many red potato salad recipes out there but this is one of my favorites. 

Quick and easy, this is simplicity itself.  A light tangy dressing is drizzled over cooked potatoes.

I don't believe food should be drowned in rich, creamy sauces and dressings.  The food is the star of the show, the sauces and dressings are there to complement the food.  In this case the potatoes, and potatoes have never tasted so good.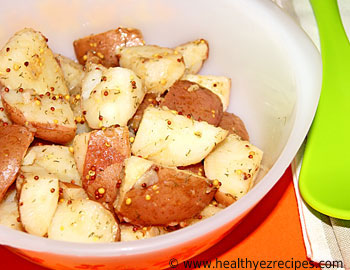 Prep Time: 15 minutes
Cooking Time: 10 minutes
Serves 4-6
Ingredients
    6 waxy, red-skinned potatoes
    1 tablespoon wholegrain or seeded mustard
    1 tablespoon chopped dill or 1 teaspoon dried dill
    2 teaspoons soft brown sugar
    3 tablespoons red wine vinegar
    ¼ cup olive oil


How to Make
Step 1

Assemble your ingredients and wash the potatoes.  You need a waxy, red-skinned potato. There is no need to peel them as they will be cooked in their skins.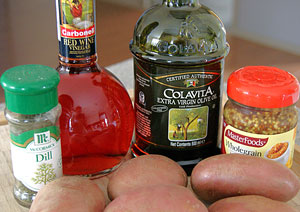 Step 2

The next step is to boil your potatoes until they are cooked through but still firm.  The trick to making potato salad is to get the potatoes right.   They should be soft but still firm enough to hold their shape when diced.

I recommend using a timer.  How long you cook them will depend on their size.  I cooked my potatoes for ten minutes and they were perfectly cooked.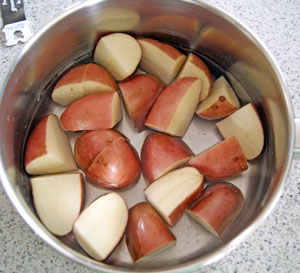 Step 3

Drain the potatoes and when cool enough to handle dice them into cubes.  Set aside.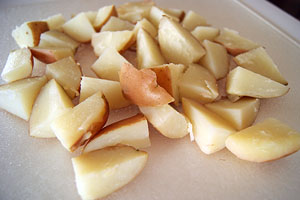 To Make the Dressing

Place the mustard, dill, brown sugar and vinegar into a jug.  Whisk together while gradually adding the olive oil.

Then drizzle the dressing over the still warm potatoes.

Always season soups at the end of the cooking time.  As the liquid reduces, the flavors become more intense and you may not need to season.  If by chance you have overdone the seasoning, place a slice of bread in the soup and leave for 5 minutes.  It will soak up the excess salt.