Chickpea, Zucchini and Pumpkin Curry -
Comfort Food at Its Best

A curry is one of the best ways to enjoy our veggies, apart from roasting them.
A good curry will warm the heart and feed the family.   Plus it's such a great way to use up all those veggie bits cluttering up your vegetable crisper.  Almost any vegetable can be thrown into a curry.
All you need to get right is the hotness and the flavour and hey presto, dinner is served.
This particular pumpkin curry uses chickpeas, zucchini, tomatoes and coconut milk and is then finished off with coriander (cilantro).   A dish that is flavoursome and hearty but won't leave you feeling stuffed and heavy.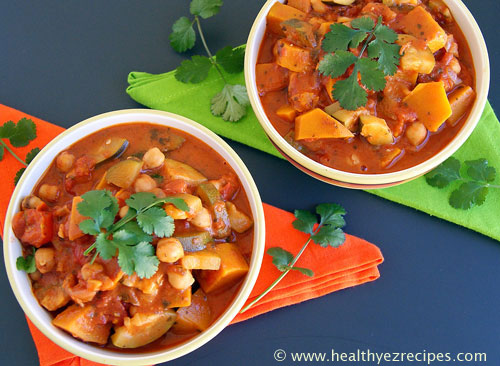 Preparation time:  15 minutes
Cooking time:  20 minutes
Serves 4

Ingredients
1 tablespoon olive oil
1 onion, finely chopped
1 garlic clove, crushed
1 red chilli, chopped
1 teaspoon ground coriander (cilantro)
1 teaspoon ground cumin
800 g / 28 oz can chopped tomatoes, undrained
400 g / 14 oz can chickpeas, drained, rinsed
400 g / 14 oz pumpkin, cut into small cubes
2 zucchinis, halved lengthways, sliced
½ cup coconut milk
½ punnet cherry tomatoes, quartered
¼ cup coriander (cilantro), coarsely chopped
¼ cup mint, coarsely chopped
How to Make

Heat oil in a large saucepan on high. Add onion and garlic and saute for 2 – 3 minutes until transparent and tender. Add coriander, cumin and chilli and stir for 1 minute. This will release all the wonderful flavors.

Chop the pumpkin into cubes and dice zucchini. Add to the pot, along with the tomatoes, chickpeas and coconut milk. Season to taste. Bring to the boil, reduce the heat and cover. Simmer for about 12 – 15 minutes or until vegetables are just tender. Stir in cherry tomatoes and chopped coriander and mint. Fresh herbs are preferable if available.

Remove from the heat when the vegetables are cooked.
Serving
Serve curry with steamed rice and pappadums.  Top with sprigs of coriander and mint leaves.