Pineapple Slice with Toasted Coconut -
A Slice of Heaven

This coconut pineapple slice is one of my faves and is so quick and easy to make, the type of recipe that I like.  Of course it goes without saying that it must be delicious as well, and this one fulfils all criteria.
Pineapple and coconut is such a great combination that works so well.  Add nuts, seeds and dried fruit, then finish with a tangy lemon icing topped with toasted coconut, and you have a refreshing tropical slice.
As it's a slice and the pieces can be cut into a manageable size, this is perfect for lunchboxes or packed into a picnic basket.
Preparation Time:  20 minutes
Cooking Time:  35 minutes
Makes 24 slices
Ingredients
   1/3 cup shredded coconut, toasted
   ¾ cup self-raising flour
   ½ cup plain / all-purpose flour
   ¾ cup soft brown sugar
   2 tablespoons sunflower seeds
   2 tablespoons sesame seeds
   ½ cup chopped pecan nuts
   1/3 cup chopped dates
   1 tablespoon chopped crystallized ginger
   ½ cup desiccated (dry unsweetened shredded) coconut
   8 oz / 200 g can crushed pineapple, drained
   100 g / 3 ½ oz unsalted butter, melted
   2 eggs, lightly beaten
Frosting
   2 cups icing /confectioners sugar
   30 g / 1 oz unsalted butter, melted
   1 tablespoon lemon juice
   1 - 2 teaspoons water
How to Make
First you need to toast your coconut.  Learn How

Step 1
Preheat the oven to 170°C / 325°F.   Grease and line a 20 x 30 cm / 8 x 12 inch shallow baking tin with baking paper, using enough paper so that it overhangs on two sides.
 
Sift both flours together into a large bowl. Add the brown sugar, seeds, chopped pecans, chopped dates and desiccated coconut and mix until the ingredients are combined.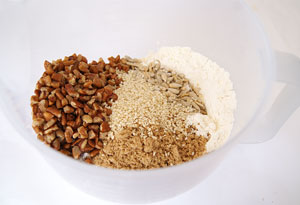 Step 2
Place the butter in a small heatproof bowl, melt in the microwave and add to the mixture. Drain the crushed pineapple and add. Whisk the eggs together and stir into the mixture.  Gently stir the mixture until all the dry ingredients are combined and moist.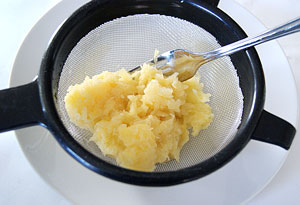 Step 3
Spoon the mixture into the prepared tin, spreading it evenly with the back of the spoon. Bake in the oven for 25 - 30 minutes or until golden brown. Remove from the oven and leave to cool in the tin. When cold, remove from the tin using the overhanging paper.


---

Making the Frosting
To prepare the frosting place the confectioners sugar into a heatproof bowl with the butter and lemon juice. Add 1 - 2 teaspoons of boiling water and stir until the frosting is smooth and creamy. Add the water gradually until you have the desired spreading consistency.
Sprinkle the toasted shredded coconut over the frosting and leave to set.
To serve cut into fingers.