Moroccan Chicken Recipe with Honey, Tomatoes and Almonds
Looking for different ways with chicken?  Turn plain old chicken into an exotic feast with this Moroccan chicken recipe.  Moroccan-style cooking is wonderfully tasty and spicy, using a variety of different spices, often adding lemon, honey or olives.
This recipe has all the spice of traditional Moroccan cooking with saffron, honey, tomatoes, coriander and almonds.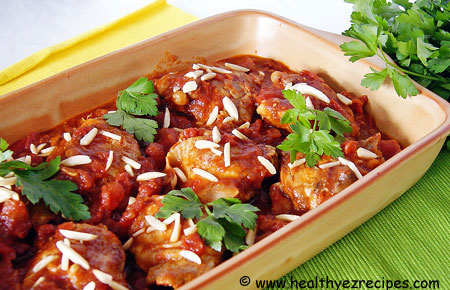 Preparation time:  15 minutes
Cooking time:  1 ¾ hours
Serves 4 – 6
Ingredients
   ½ cup slivered or blanched almonds, toasted
   2 tablespoons olive oil
   1 brown onion, finely chopped
   1 teaspoon ground cardamom
   1 ½ teaspoons sweet paprika
   1 teaspoon ground ginger
   Pinch of saffron threads
   3 x 400 g / 14 oz cans crushed tomatoes
   ½ cup honey
   1 kg / 2 lbs chicken pieces
   Fresh coriander (cilantro) leaves
How to Make

Step 1
Preheat the oven to 180°C / 350°F.  Spread the almonds on a baking tray lined with baking paper and bake in the oven for 5 minutes or until toasted.   Remove from the oven and set aside.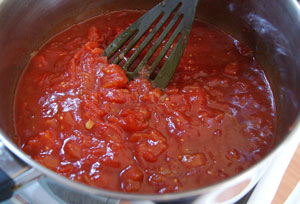 Step 2
Heat half the oil in a stockpot over medium heat.  Add onion and cook, stirring occasionally, for 5 minutes or until golden. Add the cardamom, paprika, ginger and saffron.  Cook, stirring for 3 minutes or until aromatic.  Stir through the tomato and honey.    Turn the heat down low to keep the tomato mixture warm.
Step 3
Meanwhile, heat the remaining oil in a large heavy-based frying pan over medium heat.  Add the chicken pieces in batches and cook until the chicken is golden and cooked through.  Transfer to a tray lined with paper towel to remove excess fat.   Repeat the procedure with remaining chicken.   Add the browned chicken to the tomato mixture.
Step 4
Bring the stockpot back to a simmer over a low heat.  Cover and cook for 50 minutes or until the chicken is tender.    Remove the chicken from the pot and transfer to a plate and cover to keep warm.
Increase the heat to medium and leave the sauce to simmer for about 25 minutes, or until the sauce thickens.    Give the sauce a stir now and then to prevent it burning.    This reduces the sauce and intensifies the flavors    Return the chicken to the pot for about 6 minutes or until it is heated through. 
---
Serving

Transfer the chicken mixture to a serving platter.  Top with the toasted almonds and coriander to serve.